This is a sponsored post written by me on behalf of Wikibuy for IZEA. All opinions are 100% mine.
Most people do their shopping online. Isn't it awesome? You don't have to leave the comfort of your home. With the click of a mouse, you can buy anything and everything you need right online. Did you know there are actually tips for shopping online? Check them out below!
Pay attention to those emails
You know all of the emails that you send to the spam box. Pay attention to them. A lot of times they have awesome deals that can help you save even more money. I have missed so many awesome chances to save money because those emails went to spam.
Look around before you buy
One thing I've learned about shopping online is that you don't have to just look on one platform. There are dozens of places to shop. Sometimes you actually lose money by not looking around for the best deal.
Make sure your credit card stays safe
These days, it's more important than ever to make sure your credit card stays safe. While you're filling out your credit card info, don't click on any links. Also, make sure you keep a close eye on your statement. Hackers can be sneaky and take advantage of you quickly.
Use the Wikibuy Online Shopping Tool
Are you ready to make online shopping a breeze? Wikibuy is actually a Chrome browser extension. You download it, and it does all of the hard work for you! In a nutshell, finds lower prices from other online sellers when you shop on Amazon. It gets even better because after you install this awesome extension, it'll alert you if it finds a better all-in price at sellers like Jet, Ebay, Target, and others. When you find that lower price, you can even purchase it through Wikibuy. I love this too, every purchase you buy with Wikibuy is guaranteed. Basically, it does all of the hard work for you. It works in 10 seconds or less, works automatically, and it'll find the lowest prices for you (including shipping and tax).
I tried Wikibuy for myself and was able to save $9 on a much needed drill battery. All I did was search for the item on Amazon.
Then I clicked on the green Wikibuy icon in the corner. This told me there was savings available on another website.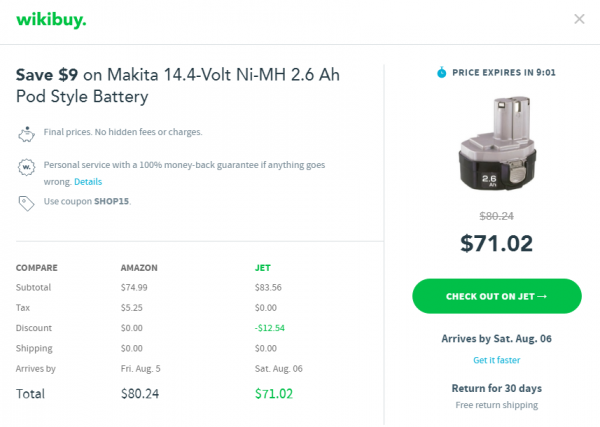 Of course, I was up for saving money so I checked out easily through the recommended website.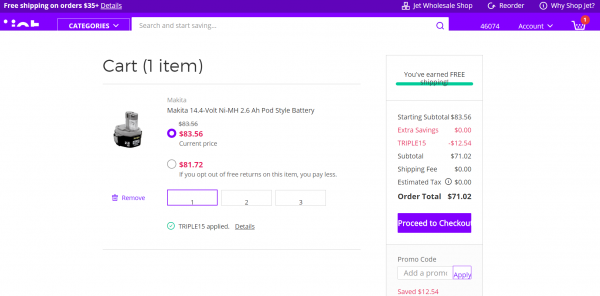 Check for better prices automatically and save easily with Wikibuy!
Make online shopping bearable again with these awesome shopping tips. What tips would you add to this list?