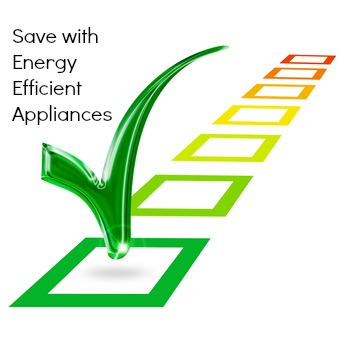 Everyone knows that energy-efficient appliances are a "good choice." But when you actually crunch the numbers, how much would you save by upgrading to a more efficient washing machine or HVAC system? And at the end of the day, what makes those pricey home appliance choices worth it?
Annual Savings for your Household
According to the Alliance to Save Energy, homeowners could save up to 30 percent on their electric bills by investing in Energy Star appliances. The ASE reports that the average U.S. household spends more than $5,500 (can you believe that!?) on power every year, so when you do the math, you're looking at a potential savings of $1,650. That looks like a good option for the earth and your pocketbook.
But energy-efficient appliances generally come with a higher up-front cost than their standard, run-of-the-mill counterparts, and it could take up to three years to make up the difference in power bill savings. It can be difficult to compare the features of Energy Star appliances side-by-side with other new models.
If you already have appliances that work fine, but you're considering replacing them for more energy-efficient models, you're looking at a high up-front cost for new systems when your old ones are already functioning. CashNetUSA offers a list of the top five appliances that suck the most energy, so you can make a decision on which to buy and which to pass on until later. Even so, if you're going to update your appliances to more earth-friendly options, chances are you'll need to have more reasons than savings on your annual power bill to convince you to foot the bill.
Tax Credits
Whether you're considering updating your older appliances or building a new home and deciding on what type of choices you'll make when you choose appliances, windows, doors, and HVAC systems, you've probably heard that the federal government offers tax credits on certain energy-efficient products. Here's the rundown on eligible products, including just how much of a credit you can expect:
Ten percent of the cost of the item up to $500 on the following:
HVAC systems
metal and asphalt roofs
non-solar water heaters
energy-efficient windows and doors
Thirty percent of the total cost of the following:
geothermal heat pumps
small, residential wind turbines
solar energy systems
You could also save up to 30 percent of the total cost of fuel cells for your home.
So, depending on the appliances you're considering for purchase — or the major remodeling projects you choose to complete — your opportunities for tax credits could vary dramatically.
Big-picture Effects
So, now you know that energy-efficient appliances could save you as much as 30 percent on your personal power bill. But energy-saving appliances could have dramatic long-term effects on the environment and America's economy. According to the EPA, the use of these smarter, more resource-friendly choices could lower America's total annual energy expenditure by 2025. The same report indicates that this kind of savings can result in many practical benefits for U.S. citizens:
Billions of dollars saved each year — and keeping more of our dollars local
Fewer power plants built annually
More jobs for everyday Americans
Fewer emissions and cleaner breathing air in cities and towns
More affordable energy costs
The information in this article is provided for education and informational purposes only, without any express or implied warranty of any kind, including warranties of accuracy, completeness or fitness for any particular purpose. The information in this article is not intended to be and does not constitute financial or any other advice. The information in this article is general in nature and is not specific to you the user or anyone else.
Did you enjoy this post? Find more money saving tips here.