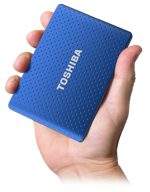 Back to school is coming up and you or your children may be looking for portable media storage and back up solutions. Toshiba has a brand new product that will make it very simple for you to back up and store files on an external device so you don't have to worry about losing files or taking up space on your computer's hard drive.  Even better, Toshiba is offering this product exclusively through Walmart at a affordable price.
As you can see from the picture above, the portable hard drive is small enough to carry with one hand.  Small but mighty as you can purchase a 500 GB ($60) or a 1TB ($79.)  It is also very simple to use. Simply, plug the Toshiba backup portable hard drive into your computer and after a short initial setup, you will be on your way. I've had several other backup hard drives in the past and usually just getting through the set up process is a couple hour ordeal. This one is very simple. Once you have that initial setup, backups will start automatically every time you plug the drive into your computer.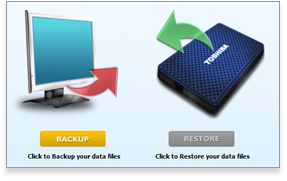 If you speak geek, these Toshiba automatic backup portable drives are powered by USB 3.0 technology for faster transfer speeds and they are also compatible with your older USB 2.0 devices too. All in a very small pocket size portable drive.
So far, I have not had to restore my files via the backup portable drive and I hope I don't have to. However, I feel confident that my files are being backed up on a regular basis and they will be there should the worst happen to my system.
Purchase the Toshiba Automatic Backup Portable Drive from Walmart.com or in stores: 500 GB ($60) or a 1TB ($79.)
Read more reviews from Bargain Briana or at the Buzz by Bargain Briana.
Review products were provided to me by Toshiba. Post was written 100% by me and was not edited by the sponsor. Read more on my Disclosure Policy.