My kids have a bit of obsession with cars. They get it from their daddy and papaw! Needless to say the boys were thrilled to get a remote controlled car to play with!
We were sent the Toy State Road Rippers R/C "Mobile Command" blue with white striped Viper. I'm taking the boys word that is a Viper. This car is providing hours of entertainment for them!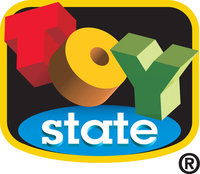 Features:
Lights
Sounds
Walkie Talkie Themed Controller
Styles include Dodge Challenger and Dodge Viper
Eli's favorite part is that it can back up just like a real car does. It was the very first thing he had to tell me. He is six years old and was able to get this out of the box, put batteries in it, and figure out how to play it all by himself. He wanted to show you how it works below. (This is a home video – not professional quality by any means!)
Road Rippers R/C Mobie Command or Motor Muscle are sold online at Amazon.com or in stores like Walmart, Target, Kmart, and more! Retail price is $35.00.
Read more reviews from Bargain Briana or at the Buzz by Bargain Briana.
This post is sponsored by Toy State via Team Mom. Post was written 100% by me and was not edited by the sponsor. Read more on my Disclosure Policy.