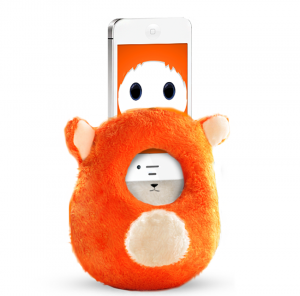 The Ubooly is one of the most unique gift ideas I have seen in awhile! This is a toy recommended for ages 4 – 9 but I think all ages would have fun with the Ubooly.  Of course, I have a great deal for you – $10 off the retail price of $29.99 with this special link, which will make the total price just $23.07 with shipping. No coupon code needed.
Here's a description but one of my favorite features is that you simply slide your device into the pocket of the Ubooly and it comes to life. Also, the  Ubooly updates each month with new activities for FREE! :)
Ubooly is a smart, plush toy that is powered by your iPod Touch or iPhone (compatible with iPhone 3GS, 4, 4S, 5, iPod touch 4G, and iPod touch 5). This cuddly, orange critter comes to life thanks to a special Ubooly app, and features three interactive activities that are activated by the child's voice. Over time, Ubooly learns your child's play patterns and favorite activities thanks to high quality speech recognition capabilities. Recommended for ages 4 and up, Ubooly can be used with old iPhones that are no longer in service. How great is that?
Watch the Ubooly in action here:
Want to save loads of money this holiday season? Find the latest holiday deals I've posted about. You can also check out the Hot Holiday deals,  Giveaways, Online Coupon Code Database, and my Holiday Gift Guide. These pages are being updated often.