Learn to save 50% or more on your grocery bill every month! It is change that will add up quickly!
Have you attended one of my coupon workshops in the past or have you heard how much fun they are? Last month's classes in Tipton and Michigantown were fantastic!  This was the first month with the new presentation and I think the classes went rather smooth.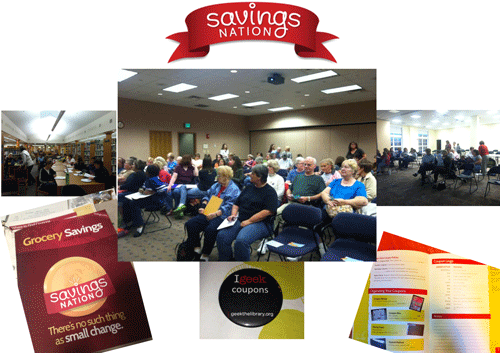 I'm announcing a new class in Indiana (see details below.) This is a little different format than my classes in the past and will include the following topics:
Strategic Grocery Shopping: Learn how to avoid common marketing traps at the grocery store, and shop smarter!
Realistic Couponing: See exactly how coupons work, how you can use them to save at least 50% on your groceries, understand your stores' policies, and keep all those awesome coupons organized!
Meal Planning Made Simple: Get practical help with how to plan out your menu to save the most money while providing healthy meals for your family!
This class is $10. Use coupon code SNJUNEBB to save 50% on your ticket for a limited time! This makes your ticket price just $5!
You will receive a very nice workbook to take home with you. You will receive a very workbook to take home with you, along with valuable advice, coupon policies, and coupons! There are also a few mystery door prizes during the class!
**$2 of every ticket sale will go to the Tipton County Foundation "Shoes for Kids" Fund in memory of my brother, Billie Ryan Schroeder, who passed away last year.
There are a limited number of spaces available, get your ticket here today.
Details:
Kokomo-Howard County Public Library – South Branch
1755 E Center Rd
Tuesday, June 19, 2012 from 5:30 – 7:30 p.m.
Register Here
If you would like me to come to your town or your organization would like to know how you can host a coupon workshop as a fundraiser, please fill out this coupon class interest form.
Also, if you have friends in other cities that want to learn to save like a Pro, please visit SavingsNation.com and find a class location near you. In partnership with Savings.com, we are rolling out dates all throughout the U.S. by the top blogs/money-saving experts in the community!
Here's a few of the upcoming classes around the country: