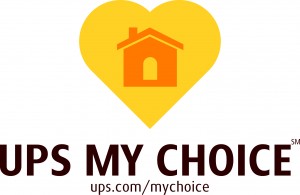 During the holidays, you may be getting and sending quite a few packages. I do quite a bit of online shopping so I'm receiving packages almost every day. Often I'm not home to accept these packages and worry about the packages getting stolen or damaged by the weather. Though, usually more worried about the packages getting damaged by the weather.  So, I was excited to hear about UPS My Choice service.
UPS is committed to making the on line shopping experience better for shippers but also for the consumers who receive packages at their home. UPS has a revolutionary new service called UPS My Choice.
With UPS My Choice, you can give UPS the authorization online to deliver your package without a signature when you know you will not be home. You can also sign up to receive proactive notifications via text, phone, or email the day before a delivery. It also allows you to request your packages be delivered to The UPS Store near you for free pick up or redirect your packages to be delivered to another address for a $5 transaction fee.  These are all handy as it is very disappointing to see the sticker that indicates UPS tried to deliver a package but they could not do so because you weren't home.  Whenever this happens to me, it seems like I just miss the delivery by a few minutes.
In addition to the free benefits I discussed above, you can upgrade your UPS My Choice account to a premium membership for $40 a year. With the premium membership, you will receive all the benefits of the UPS My Choice membership as well as gain access to an online delivery calendar which shows the status of UPS home deliveries. For a $5 transaction fee, you can request a two hour delivery window so you know it will be delivered when convenient for you. The $5 fee is only charged upon successful delivery of the package within that two-hour commitment.
Try it out and see what you think. I encourage you to sign up for the UPS My Choice service for free.
I received compensation from UPS in the form of a gift card to participate in this campaign promoting the UPS My Choice delivery service. In addition, UPS provided the gift card I am using as the prize in my promotion (giveaway coming in a separate post!). Read more on my Disclosure Policy.