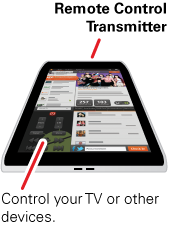 We live in a house of lost remotes. Some of them have been lost forever. There are also many remotes we don't know what they belong to. Universal remotes are just another remote with a hefty price tag so we haven't went that route.
One of the features we learned about at the Midwest Savvy Savers meet up back in May was the ability to use the Motorola Xyboard  as a universal remote control. This is just one of the many multi-functional ways you can use the Motorola Xyboard. To use the Motorola Xyboard as a remote control, you don't need any additional hardware or adapters. The tablet has a built-in infrared transmitter which supports IR (infrared) technology commonly used with remote control devices.
I was able to easily set up our DVD player, which has been missing a remote for a long time (years?) with the pre-loaded Dijit app. It just took a couple of minutes and it was working. Configuring the satellite was also very easy. I can control my satellite receiver in our bedroom with the iPad but it did require purchasing additional equipment from Directv and having internet access.
I haven't been able to set up the TV yet with the tablet because I don't know the model number and there is about 100 different signals to choose from on the Dijit app. If I look behind the television, I'll probably be able to access that information.
There are so many things that are cool about the Motorola Xyboard! You can view all my past Verizon posts here: https://bargainbriana.com/tag/verizon/.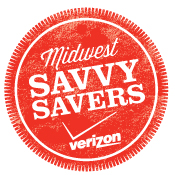 Disclosure: I am participating in the Verizon Wireless Midwest Savvy Savers program and I have been provided with a wireless device and six months of service in exchange for my honest opinions about the product. Learn more on how I disclose on my Disclosure Policy page.