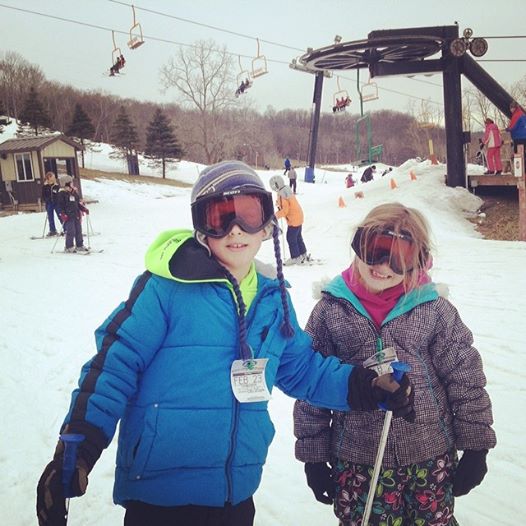 Last weekend,  my mom and I took the kids snow skiing for the first time ever. My kids and  my younger brother had never been skiing before so we weren't sure what to expect. Would they have fun? Would we hear "I'm Bored?" Would they complain about the weather? It's hard to find an activity that is not computer related that all of the kids will enjoy as there is a wide array of ages from 7 to 15.
Not really surprisingly but the three boys just took off after getting their equipment. Later we found out they went to a lift chair hill and just took the plunge. They LOVED it and with no lessons or any instructions from me, they picked up on skiing rather impressively. Of course, they had their falls and tumbles but apparently they learned everything they needed to know watching the online "Learn to Ski" videos on the way to the slopes.  The girls both took a hour free lesson and they had a great day too. They have been begging us to go back since the moment we left the slopes.  Unfortunately, the slopes are about a two hour drive, which isn't too bad since we live in flat central Indiana but it is still enough of a trek that it will have to be planned somewhat in advanced when we head back.
It was a little over two hour drive, so it was nice to have the Samsung Galaxy Note 3 and the 4G Mobile Hotspot capability. This meant the kids could hook up their devices and stay entertained (not fighting) while I concentrated on the road. The roads were clear but we did encounter some rain on the way so I wanted to be able to give my full attention to driving. We absolutely love the 4G feature as the younger kids are not ready for their own cell phones and frankly, I don't want to pay for the service right now, but they have their iPods that they can watch movies, listen to music, or play games when they connect to the hotspot. The 4G service was awesome on our entire trip down. So much so that my younger brother said it was faster than his home internet service. (They have DSL through our local phone company.)
I remember my first ski trip. We had a group of friends with my parents loaded into my grandpa's full size van. The van was sweet with a built in television with VCR. On the way up, we watched this really corny but informative learn to ski video on VHS. Contrast that 20 years later when my kids are searching YouTube for skiing and snowboarding tutorials and they are each watching on their own device. Oh how the world has changed!
Not only did we love the 4G capability but the Samsung Galaxy Note 3 battery life lasted the entire day, which was awesome to keep in touch and still take pictures later in the day as my other phone did not make it that far into the day. My youngest son took this photo as we were leaving the slopes….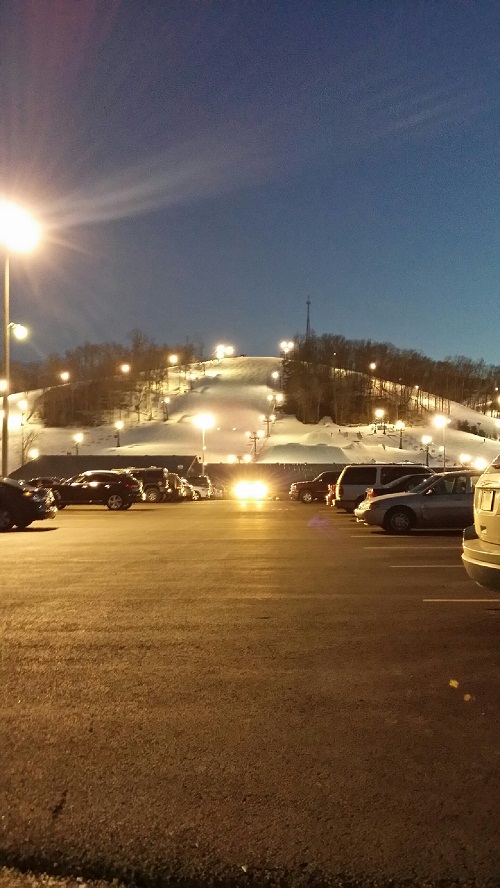 In the coming months, I will be sharing posts with you about our experience with the Samsung Galaxy Note 3. I'm a novice on the Android Operation system but I'm learning and loving it. I will be sharing my tips, tricks, stories, and of course any deals that I find related to the Verizon. Like this fantastic deal that Verizon just announced the "More Everything" Plan.
Highlights:
Unlimited Talk, Unlimited Text and Double the Data on select plans in one shareable pool.
Shareable data
25 GB of cloud storage (used to be $3 a month)
International Texting (some restrictions apply)
Connect up to 10 devices
Mobile Hotspot Capable
Cloud backs up contacts, photos, videos, music, documents, text messages and call logs to secure cloud storage?
You're not locked into just iOS (iTunes/iCloud), Windows or Android it'sOS agnostic….
Parental controls FREE for the first 3 months.
Disclosure:  As member of a pretty cool team of influencers, I received the Samsung Galaxy Note 3 with line of service from Verizon. No additional compensation was provided nor did I promise positive feedback.  All opinions are my own. Learn more on how I disclose on my Disclosure Policy page.