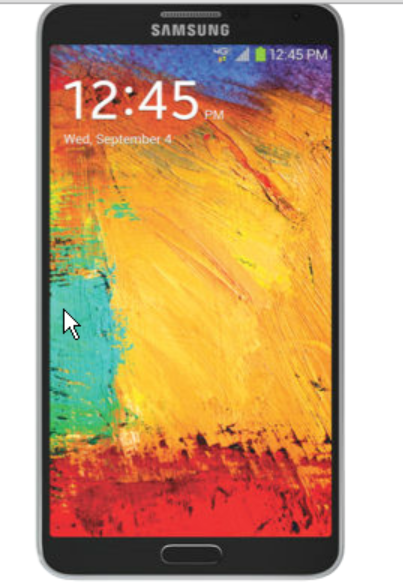 For the past couple of months, I have been testing out the Samsung Galaxy Note 3 on the Verizon 4G LTE network. I have been a iOs gal for the past 5 years or so and I've never been able to find a Android device that I like until now. I love that all of my favorite apps seem to be working so much better and faster than on my current device.
For example, the pictures that are taken on the Galaxy Note 3 are so much more clear and crisp than on my current device. I use the PNC app to make mobile deposit to my bank account on a somewhat regular basis. On first try this month, I used my current device to try to deposit this check. The app kept telling me that the picture clarity was not acceptable. In fact, the app crashed on me a couple of times while I was trying to make this deposit. <Ugggggghhhhhh.>
At this point, I decided to download this app on my Galaxy Note 3 and put it to the test. it was simple.  I was able to capture the check photo with excellent clarity on the first try. I actually saved time by depositing my check via my phone app instead of trying multiple times without success on my current device. With my current device, it would have  been quicker to drive to the actual bank and make the deposit.
Another thing I love is having my regular google calendar back! During one of the updates in the past year, the built in calendar on the iPhone started looking very useless. This is what a month preview looks like.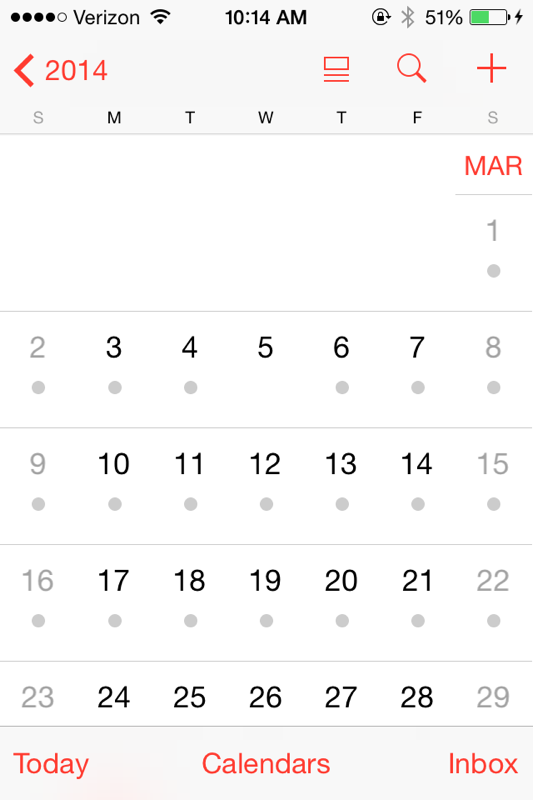 Somehow this screen of the entire month is suppose to be useful to me? For someone who uses their Google Calendar for every activity and event and would like to see a month's preview, this is NOT helpful or useful at all. If I want to see what is going on for the entire month, I simply can't. I have to click on each individual date to see what is going on. Of course, I'm loving seeing my regular calendar BACK with the Galaxy Note 3….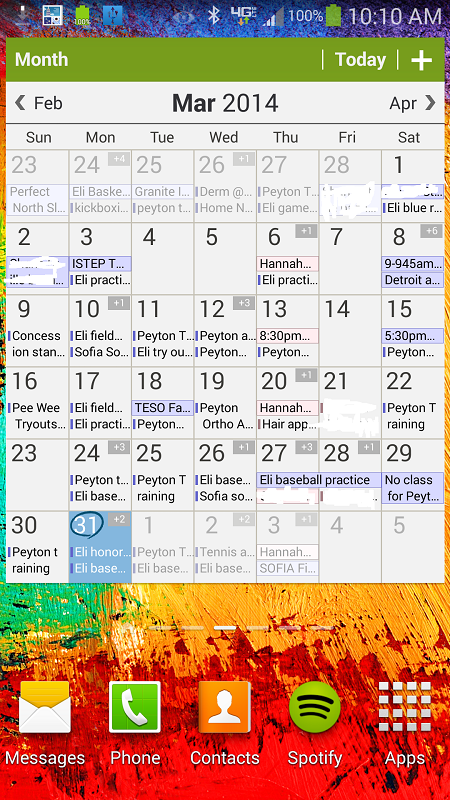 Hello productivity! I can easily see at least a few things that are going on with this calendar on a particular day.
Other reasons I'm loving this device:
More options to customize my home page and other widgets.
LARGE screen! You can actually read things on this device.
Very fast! Apps seem to work much quicker and obviously the internet is awesome with the 4G LTE!
This is just one success. I really never thought I would cross back over to the Android market.
Disclosure:  As member of a pretty cool team of influencers, I received the Samsung Galaxy Note 3 with line of service from Verizon. No additional compensation was provided nor did I promise positive feedback.  All opinions are my own. Learn more on how I disclose on my Disclosure Policy page.