This is sponsored content. All thoughts and opinions are my own.
When you have a large household, the laundry never ends. With many loads of laundry, one item we don't want to run out of in our house is laundry products. Having our favorite fabric care products stocked up and ready to go is the key to keeping laundry running smoothly. As a bargain hunter, I love to stock up on these products when I find a great deal!
Right now is a fantastic opportunity to stock up on my favorite P&G products including Tide and Downy at Walgreens. From now through June 12, 2021, you can save big on Tide Fabric Care at Walgreens with this register reward deal along with eSaver coupon in-stores, online, or using store pick-up.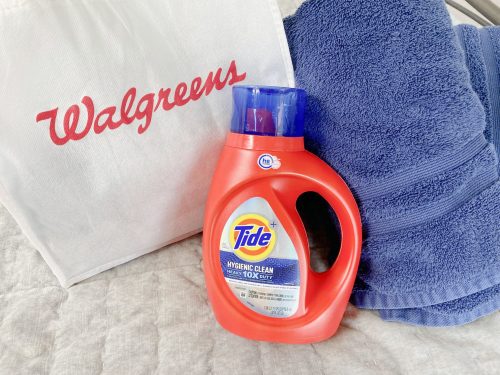 At Walgreens, you will find P&G trusted brands to help you live well, everyday including Tide and Downy fabric care products. From June 6 – June 12, you can save big when you buy (4) select Tide Liquid Laundry Detergent at a sale price of just $4.99 (Regular Retail $7.49). When you buy (4) you will receive a $6 Register Reward to use on your next Walgreens purchase. Pair the Register Reward deal with the $2 digital coupon. After coupon and Register Rewards, it's like paying just $2.99 per item! This is definitely a stock up deal.
I was able to grab this deal on Tide Hygienic Clean Heavy 10x Duty Liquid Laundry Detergent, HE Compatible Original Scent, 37 oz. Tide Hygienic Clean Heavy Duty is an innovative liquid detergent that gets between fibers to clean hidden dirt. It is also the #1 Stain and Odor Fighter detergent. It is designed to clean fabrics down to a microscopic level, which is something I think we can all appreciate during these times!
The digital coupon is available on Walgreens.com. Just head over to Walgreens.com, click on paperless coupons, toggle to the coupon screen and digitally "clip" your coupons. When you shop at Walgreens and use the phone number associated with your account at checkout, your coupons will be automatically applied to your purchase.
Grab this deal before it ends on June 12th!