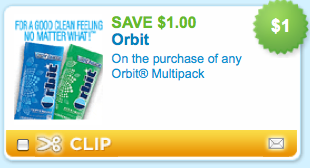 This is an unadvertised deal but Orbit Gum is ringing up for $1.50 this week. You can use this $1/1 printable coupon to get a 3 pack for just $0.50! Cherie and I refused to pay $1.89 for a pack at the convenience store this past weekend. Sort of a sticker shock for us.
So now is a good time to stock up if you have access to multiple printers!
Thanks, Common Sense With Money!