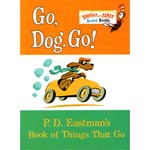 A reader/relative asked this question:
Just wondering if you have seen any good deals on Dr. Seuss books – I need to get about 20 of them – <child's name> is having a Dr. Seuss themed party and I thought it would be great for the goody bags. Let me know if you have seen anything.
What a great idea for goody bags! While, $2.65/book is a still a little hefty for a goody bag it is better value to me personally than a bag stuffed full of candy or cheap toys which will break after just a few minutes.
Go Dog Go. This was my oldest children's absolute favorite Dr. Suess Book. At one point, I thought I would go insane if I had to read it the 12th time in a row. You can purchase your very own copy of Go Dog Go for just $2.65 at Walmart with free shipping.
Walmart is offering several Dr. Suess Books for as low as $2.65/each.
Many, many, more Dr. Suess collection books available on sale at Walmart. Plus, FREE Shipping!
Have any specific deals YOU are looking for? Sometimes you have to be patient but a deal will come around! Email me or leave a comment if you have a specific request and I will keep my eyes open.
When you shop Walmart, be sure to use Ebates as you will receive 1% back! If you are new to Ebates, you can read how you can earn cash back on your online purchases! Plus, you get a $5 bonus when you sign up and make $20 or more in purchases within 90 days!