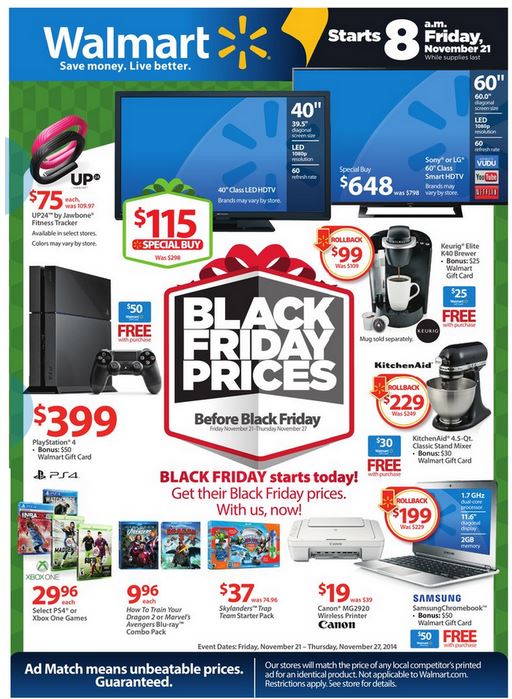 Here is it! Walmart has released their PRE- Black Friday deals. Just head on over to Walmart and click on the Local Ads Tab to view your local Pre Black Friday Ad. These deals start tomorrow 11/21 at 8 AM.
For the most- these deals are STORE only deals. It appears that some of these deals maybe available online, but as of right now they have not stated the deals that will be featured online.
Here are some of the top deals:
Skylanders Trap Pack for $37- that's a great deal and the going price for almost everyone on Black Friday.
The xBox Games for $29.96
The Samsung Chromebook is $199 w/ a $50 Gift Card, so final cost= $149!! Great deal (and Meijer will have this SAME deal on Black Friday as well)
Keurig Elite k40 Brewer for $99 w/ $25 Gift Card, so final cost- $74
Playstation 4 $399 w/ $5o Gift Card, so final cost- $349.99
Samsung 32″ LED for $198  (this is a great brand and I would say skip the $115 TV for 40″ and get a better brand)
Emerson 40″ TV for $115 (I'm only putting this one in here since it's one of their HOT items, but I personally would skip this one and spend a little more for a better brand. )
iPhone 6 16GB and iPhone 5s 16GB will be $0 down w/ a $75 Gift Card (for Spring, ATT and Verizon carriers)
iPad Air 2 16GB WIFI- $489 w/ a $100 Gift Card= $389 final price
iPad Mini 3 16GB WIFI for $389 w/ $100 Gift Card- $289 final price
Any Castrol Oil Change for $20 bucks! *that's a GREAT deal!!
Frozen Pendant- $4.97
LeapFrog LeapPad2 Power- $49
Playdoh for $1.00
Want to save loads of money this holiday season? Find the latest holiday deals I've posted about. You can also check out the Hot Holiday deals,  Giveaways, Online Coupon Code Database, and my Holiday Gift Guide. These pages are being updated often.