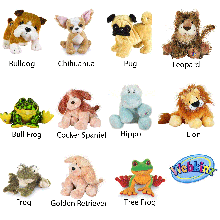 You can get a set of 11 Webkinz for $19.99 + shipping from Graveyard Mall.  The shipping calculator estimated my shipping to be $6.99.  This makes each Webkinz around $2.45 shipped!
Includes 1 each: Golden Retriver, Frog, Chihuahua, Bulldog, Pug, Leopard, Bull Frog, Cocker Spanial, Hippo, Lion & Tree Frog  and each has it's own secret code so your child can join Webkinz World.
If you don't want to purchase a set of 11, you could purchase the set of 6 Webkinz for $11.99 + shipping. (Again, it estimated shipping to be $6.99 for me.) This brings the price up a little to $3.16/each.
This set has a different selection which includes: Rabbit, Grey Arabian, Black Bear, Spotted Frog and Google Duck. Each of these also come with their own secret code for Webkinz World.
When I put both sets in my cart, I was able to save a bit on shipping and it looked like just $7.99 for shipping (increasing the price just a $1 total.) This makes the price for 17 Webkinz just $2.35/each!
Want to save loads of money shopping online? Check out the latest online shopping deals.