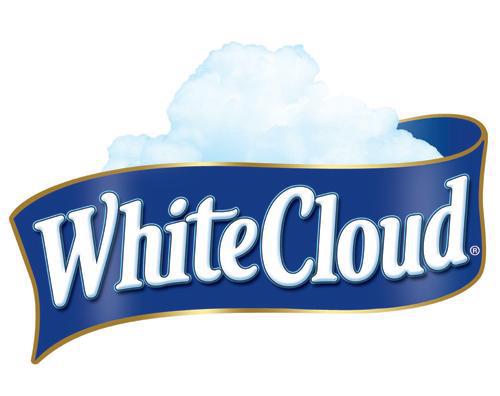 If your house is anything like mine, you go through quite a bit of bath tissue, otherwise known as TP in our house.  Unfortunately, unlike some of the people on that couponing show on television, I do not have a wall of toilet paper. Oh, how I wish I did but I have never been able to get bath tissue completely free like that unless I am using store rewards to purchase it.
Since using store rewards to purchase bath tissue is not always possible, I like to go for a brand that gives me the best value for my money.  My goal is always to buy the lowest price bath tissue that I can find that has decent strength as it really needs to pass the FPT (Finger Poke Test.)
We've been using White Cloud bath tissue exclusively for several weeks and there have been no complaints in our household.  White Cloud 3 ply is just $0.25 for 100 sheets; 2-ply is $0.19 per 100 sheets. This is a fantastic value.
Not only does White Cloud have bath tissue, they also have a new line of facial tissue products, which we discussed here on the blog a couple months back.  Right now, on the White Cloud Facebook page, you can get $0.50 off White Cloud Facial Tissue, 90 ct box.
It is only available in select markets so if you have it in your area, grab a few boxes now with the coupon. I know school isn't even out for most of you but it's not too early to start stocking up for Back to School Facial Tissue packages! I personally love all the designs available in the facial tissue line.
You may remember the Rate the Roll Challenge I participated in a few years back. In it, I discovered that White Cloud GreenEarth Bath tissue is a great green product and you don't have to sacrifice softness to support products made from 100% recycled fibers. Best of all, White Cloud GreenEarth products are extremely budget friendly.
Like me during the Rate the Roll Challenge, I would have never guessed the White Cloud products were made with 100% recycled fibers as there was no difference from the non-recycled fiber products. I always was under the impression you had to sacrifice quality to use a green product. You do not have to do that with the White Cloud GreenEarth products.
Consumer Reports has conducted an independent evaluation of 25 bath tissue products including White Cloud 2-ply Soft & Thick and White Cloud 3-ply Ultra. Click here to find out how they did. 
Disclosure:  This post is brought to you by White Cloud .  Rest assured, all opinions and thoughts are always my own. My goal as always is to help you save time and money. For more information read my disclosure policy.