Get your creative juices flowing, White Cloud has rolled out a fun contest called Imagination Unrolled. So what kind of project or creation can you come up using White Cloud products or packaging?  Be sure to print out your $1/1 White Cloud coupon to save on your purchase to help get you started!
Not only is this fun and can win you money, it is a fun, frugal project you can complete using anything in your household. The only requirement is at least one of the building materials must be White Cloud: paper towel, bath tissue, empty tubes, or plastic wrap. I make a special trip to Walmart, where White Cloud paper products are exclusively sold just to get the best value for my money on bath tissue!
I'm not going to take credit for the idea above but I thought it was a perfect tie in to this contest. A few weeks ago, I picked up my daughter from preschool and she had made me this beautiful toilet paper roll bracelet.
The only materials you need are a empty rolls and if you are like us, you get plenty of empty rolls! Then you can use any decorations you have in your house. In this case, the kids used the foam shapes for the bracelet. Cut the tube so you can slip it over your wrist and have fun decorating.
You can check out these examples for more ideas: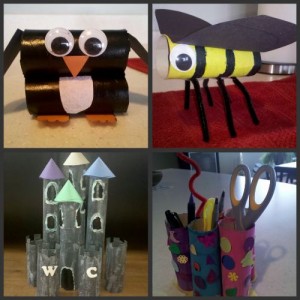 Have more than one idea? You can enter as many creations as you can come up with for more chances to win. $1,000 grand prize for 1st place. $500 for 2nd and 3rd place entries.
Here's some important dates to remember:
November 11th, 2010 voting goes live on the site, however new entries can still be accepted.
December 3rd, 2010 voting ends and entries are no longer accepted.
December 10th, 2010 winners are announced on MyWhiteCloud.com.
What can you come up with? Grab your $1/1 White Cloud printable coupon and get unrolling those imaginations!
Disclosure: White Cloud has compensated me for my time on this project. Rest assured, all opinions and thoughts are always my own. My goal as always is to help you save time and money. For more information read my disclosure policy.