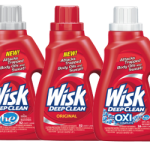 This is a fun post as part of my continued journey with Wisk with the Stain Spectrum Technology.  For this experiment we are taking on protein stains, which are the stains that come from eggs, baby formula, spinach, and you know it GRASS! If your household is like mine, you get quite a bit of grass stains.
Watch our experiment. We had once chance to get this right so it's okay to laugh at bit at my expense!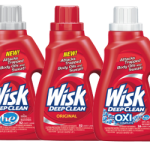 With its new stain fighting technology, the new Wisk (in the red bottle) will tackle all of them! Be sure to follow Wisk on Facebook and Twitter to keep up with the latest promotions.
You can also learn more and download a money saving coupon at Wisk.com. A 32 load bottle will cost around $5.99 retail price but we've seen it on sale lately for much less! So you should be able to get a deal with a sale and with the printable coupons here or here.
What kind of stains do you have most of in your household?
This is a sponsored blog post by In-Store only Christmas Price Guarantee on behalf of Wisk. Read my full Disclosure Policy.