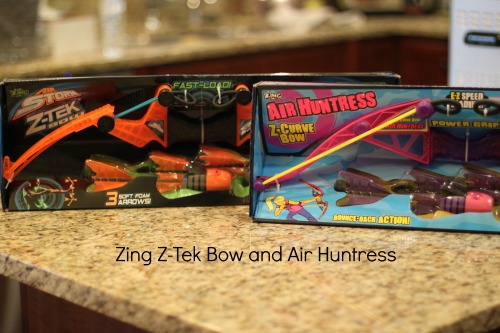 I love it when the kids tell me they put something on their Christmas list and it is something I already got for them! This is what has happened with the Zing Z-Tek Bow and Air Huntress! The two youngest kids told me they really wanted this and made a note to show it to me on their list. Haha, little do they know it is already wrapped for them this holiday!
Now the kids will be able to safely play their own version of the Hunger Games indoors this winter! These are also two toys that are on the hot and popular toy list this year.
Zing Air Huntress: 
One set includes 1 sparkle-infused cleartek pink bow; 2 zonic whistle arrows; 1 zartz arrow; stick anywhere
Shoot arrows over 125′ for long range whistle arrow
Hook the arrow on the loops and pull back as far as you can; the farther you go the longest you get
The suction cup arrow; zartz arrow, stick to almost anything
Zing Air Storm Z Tek Bow:
Has the best chance to develop your shooting skills with the safety bow and arrows
One set includes 1 cleartek bow, 2 zonic whistle arrows, 1 zartz arrow, stick anywhere
You can set up some cans for target practice, or shoot against a wall for bounce back action
This may be a toy mom wants to play with too!
Read more reviews from Bargain Briana or at the Buzz by Bargain Briana.
Products were provided in order to facilitate this post. Post was written 100% by me and was not edited by the sponsor. Read more on my Disclosure Policy.