What are you waiting for? If you do any online shopping, you need to sign up for EBATES. You can earn cash back on the money you spend online shopping. On top of that, right now, EBATES is offering you $10 for making your first purchase through them. Even better, they are offering double rewards for many stores now.
Let me tell you a little bit about EBATES:
After signing up at EBATES,  you will then sign in. You then search for the store you want to shop at. EBATES has over 900 merchants for you to choose from. I rarely come across a company that isn't offered. You have to shop through their link (You can check and make sure it has tracked it by clicking on "My Account" then checking your "Tracking Tickets". Once you do that, you will get a certain % (depends on the store) credited to your account. They also like coupon codes and free offers next to the store offerings. So if there is a free shipping code or % off code, it will be listed.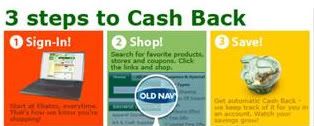 How do you get your money?
Every 3 months,EBATES cuts "Big Fat Checks". If you have over $5.01 or more credited to your account, they will either mail you a check or you can have them directly deposit it into your Paypal account. So any purchases made right now through the end of the month, will be paid out on February 15th.
Here's the payout schedule:
| | |
| --- | --- |
| Purchases Posted Between | Big Fat Check Sent |
| Jan 1-Mar 31 | May 15 |
| Apr 1-June 30 | Aug 15 |
| July 1-Sept 30 | Nov 15 |
| Oct 1-Dec 31 | Feb 15 |
So sign up and then tell your friends. You earn $10 and they earn $10 after they make their first purchase through EBATES. Sign up 2 friends and you receive a $10 Ambassador Bonus. What are you waiting for?