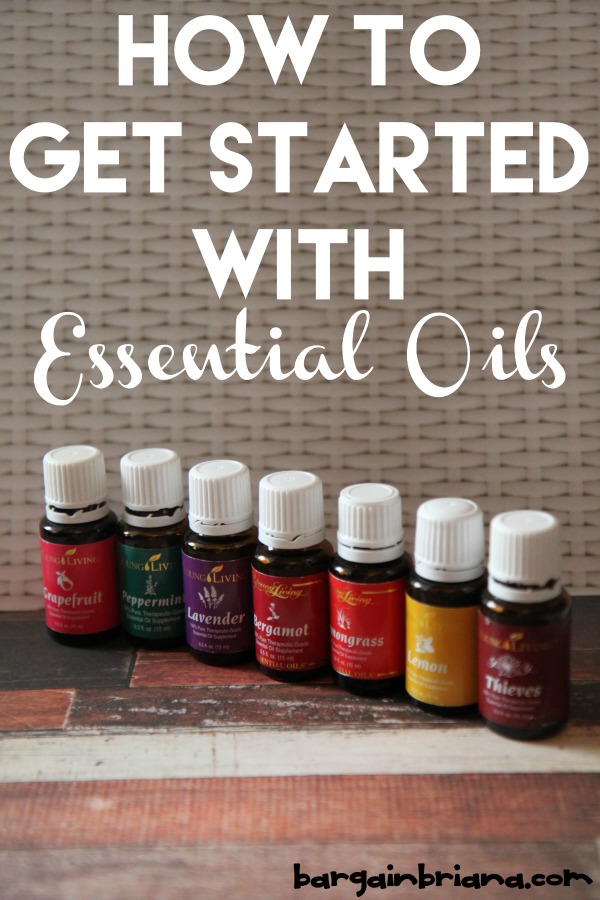 I'm sure you have heard about essential oils? You could be very skeptical like I was last year before I tried Young Living Essential Oils. Personally, I'm still a bit skeptical about some of the very wild claims.  I have found that I do love my essential oils for so many things like natural air freshener, moisturizer, cleaning, and relaxation.
How We Use Our Essential Oils
Bug Bites. This is was my very first use of Young Living Lavender oil and we continue to utilize lavender oil for many skin discomforts.
Muscle Relaxation. I love to soak in the bathtub with epsom salt that I have combined with my favorite oils! One of my favorite is Panaway, which may help with deep muscle relief.  I also use Peppermint, Lavender, Lemon Grass, or a combination of a few of these essential oils
Beauty Routines. I love using essential oils with my beauty routine. Add a little essential oils to your sugar scrubs like in this Peppermint Sugar Scrub recipe or your shea butter for a delight! You can also check out this absolutely divine Lavender Body Butter recipe using Young Living Essential Oils. These diy beauty products also make excellent gifts!
Air freshener. I diffuse oils like no tomorrow! It is a great chemical-free air freshener for your entire house. Purification oil is THE perfect essential oil to get rid of that stinky boy smell in our basement after the boys have had numerous friends over. I also like to diffuse Peppermint during the day when I'm working at my desk and Thieves at night. Thieves has so many awesome properties and I absolutely LOVE the scent!
Cleaning. Mix vinegar with essential oils or use the Thieves Household Cleaner to clean your home without chemicals. When I'm traveling, I take a small bottle of the Thieves spray with me so I can easily and quickly sanitize any areas that I will have quite a bit of contact with. (i.e, airplane trays!) Check out these Frugal Green Cleaning ideas with essential oils.
Perfume. Rub your favorite essential oil on yourself for a mild and pleasant scent. I love Stress Away! (Stress Away is actually the oil that got my hooked!)
Drinking. I love to make a big pitcher of water and add Grapefruit and Lemon essential oils to help me get my recommended daily value of the all important H20.
Hang over relief. I am almost ashamed to admit, I have had to use this one a couple times within the past year. After a little too much fun at a July 4th celebration last year, I was feeling a little icky…and had several kid's baseball games to attend. I slathered my forehead with peppermint oil (helps with the aching head), and made a combination of shea butter with lemon oil, which I rubbed all over the top of where my liver is positioned. I'm happy to say, I made it through the games in the blistering heat with the help of my essential oil friends.
(Read all my past posts on how I use Essential Oils.)
Getting Started with Essential Oils
We use our oils for so many different things and I will sharing more ways that we use our essential oils in some upcoming posts. The Young Living Essential oils are much different than the oils you can simply purchase at the grocery store. Young Living Essential oils are of a much higher quality and can be used for so many different things.
Young Living Essential Oils are 100% pure, therapeutic-grade oils produced from carefully identified plants with natural chemical profiles that match or exceed recognized world standards. Young Living Essential Oils is the only company that is able to guarantee essential oil quality from seed to seal.
Last year when I got started with Young Living, I purchased the Premium Starter Kit. This kit is the best value and it gets you started on all the popular oils.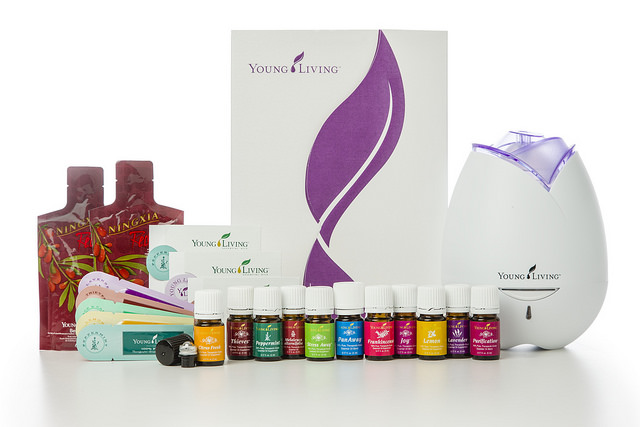 How to Buy the Best Essential Oils
The Premium Starter Kit includes:
(10) 5 mL bottles of essential oils including: Lemon, Lavender, Peppermint, Frankincense, Thieves, Melaleuca Alternifolia, PanAway, Purification, Joy, and Stress Away.
A Diffuser (a retail value of $98!)
A bonus 5 mL bottle of Citrus Fresh essential oil
Aroma Glide roller fitment  (This turns any oil into a roll-on, which is great for the Stress-Away oil!)
Sample packets of Lavender, Peppermint, Peace & Calming, Lemon, and Thieves (great for sharing with friends and family)
Two NingXia Red 2-oz. samples (a delicious supplement drink)
Lifetime Young Living wholesale membership – includes a 24% discount on all products!
The Premium Starter Kit is valued at over $300, but when you sign up as a wholesale member you'll save 50% on the kit!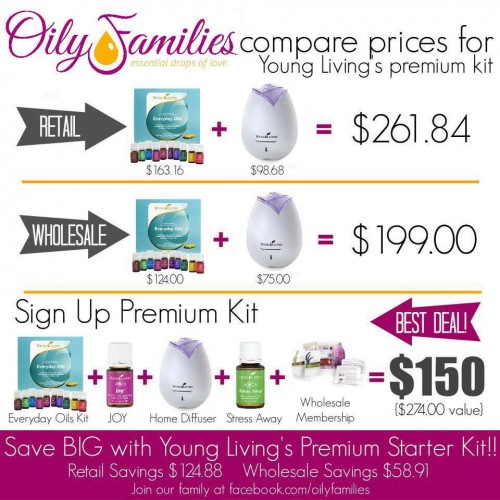 As a wholesale member, Young Living offers a generous 24% discount off the retail price. You'll also have the option of earning commissions and participating in promotions for free oils when you share the oils with your family and friends! There is NO monthly purchase requirement and NO obligation to sell anything, ever. This is what I love because I don't want to do home parties to sell anything, I just want to enjoy my Essential Oils!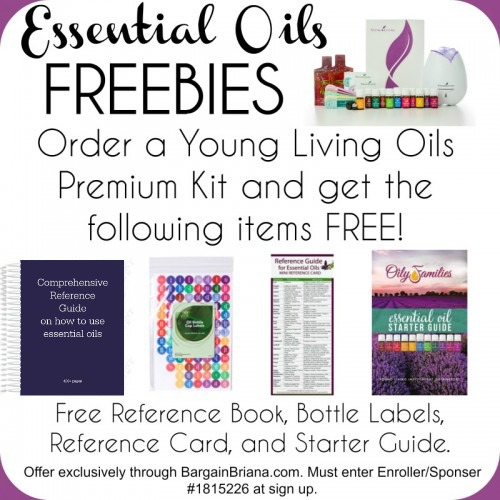 When you sign up through me (must enter 1815226 in both the enroller and sponsor fields at sign up) and order a PREMIUM STARTER KIT, I will send you a FREE reference book, bottle label stickers, reference card, and a starter guide. Be sure to email me briana@bargainbriana.com and mention coupon code "BBYL" in the email!
How to Sign Up As A Young Living Wholesale Member
1. CLICK HERE to go to the sign-up page.
2. Select "Sign Up As: Young Living Wholesale Member"
3. The "Enroller ID" and "Sponsor ID" boxes should already be filled in for you (if not, enter 1815226 in both boxes – you must do this so I can send you your freebies!).
4. Fill out your name, address, and contact info. You are required to put in your social security number, which is only for tax purposes if you decide to turn Young Living into a business. If you don't feel comfortable entering your social security number, you can get an EIN from the IRS in just a few seconds here. Make sure to include your email address so I can add you to our Facebook support group!
5. Create your username, password, and pin – make sure to save this info somewhere, you'll need it to log in and order your oils.
6. Pick your starter kit. You must sign up with one of these kits to become a wholesale member. I recommend the $150 Premium Starter Kit, which is the first kit listed on the page. As I mentioned above, this is the best value starter kit!
7. Set up your *optional* Essential Rewards Program. I recommend skipping this step by selecting "No, thank you. I plan on enrolling in the Essential Rewards Program later".
8. Click "next" at the bottom and agree to the Terms & Conditions.
Optional Step: Get a FREE oil this month!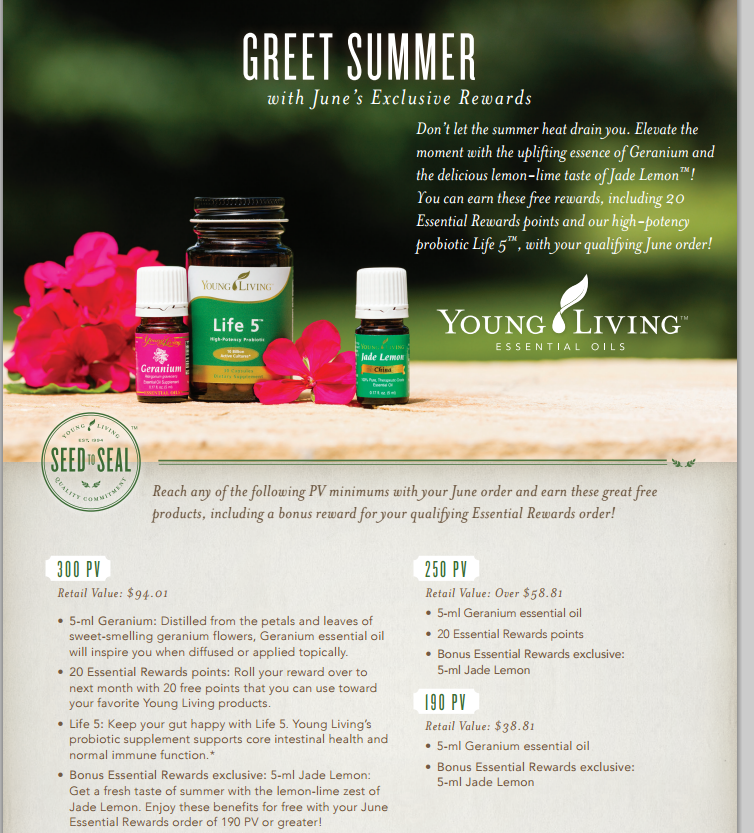 June Promotion – PDF
Each month there is a monthly special and with the purchase of a premium starter kit, you will earn 100 PV (points) and if you add just 90 PV to your order, you will get a FREE bottle of Geranium Essential Oil, 5 ml (a $38.81 value). My recommendation:
Add to your order:
Deep Relief Essential Oil Roll-On – 21.75
Thieves Household Cleaner – 22 PV
DiGize Essential Oil – 32.75 PV
Grapefruit Essential Oil – 16.75
That will put you at 193.25 PV for your order so you'll get the additional oil for FREE! These are just suggestions, you can add whichever oils you would like and this step is completely optional!
9. CONFIRM YOUR ORDER.  This is the most important step and it is very easy to miss! If you miss this step, you will not get your oils and you will be very disappointed. You will receive a welcome letter from Young Living and an order confirmation in your email. If you don't, please let me know and I will confirm that your order processed properly. You should also be able to log into your account via youngliving.org and sign in with the username and password you created. In the menu to the left, click on "Recent Orders," and your order should be there. If not, let me know so I can help you get it processed.
10. BONUS! After you set up your account and place your initial order, send an email to me at briana@bargainbriana.com and mention coupon code "BBYL" and I'll send you your freebies, plus get you added to our private Facebook group. Your oils should arrive on your doorstep in about a week!
The hardest part now is the wait! Oh and a word of caution when you do get your kit, don't sniff all off the essential oils in one setting. You just just go into essential oils overload. Don't ask how I know! ;)
IF you want to just buy without becoming a whole sale member (which I don't recommend since it isn't the best deal), you can still order your oils through my page here.
Disclaimer: The information on this site is not intended or implied to be a substitute for professional medical advice, diagnosis or treatment. Please confirm any information obtained from or through this web site with other sources, and review all information regarding any medical condition or treatment with your physician. Never disregard professional medical advice or delay seeking medical treatment because of something you have read on this website. This information is not intended to diagnose, treat, or cure any disease.
Freebies promotion available exclusively through bargainbriana.com. Not valid with any other sponsor/enroller. Must enter number 1815226 in both the enroller and sponsor fields at sign up AND send an email to briana@bargainbriana.com with coupon code "BBYL" to qualify for the promotion. Please allow up to six weeks to receive the free items. Offer only available with the purchase of a Premium Starter Kit.