This Mexican baked sweet potatoes recipe is so incredibly delicious. Mexican potatoes are one of my favorite foods to eat and they're so easy that I actually enjoy making them as well. These Mexican potatoes and ground beef are a great side dish or even for a stand-alone dinner recipe. Throw this baked sweet potato recipe in the Crockpot or make your baked sweet potatoes in the oven, you can even make these in the Ninja Foodi!
I'm also sharing some tips for figuring out how long to cook baked sweet potatoes and how I turn these Mexican baked sweet potatoes into a yummy vegetarian dish.
Vegetarian Mexican Potatoes vs. Mexican Potatoes and Ground Beef
There are a couple of ways you can make these delicious Mexican baked sweet potatoes. I like to make them vegetarian style with crumbled Upton's Chorizo, I get that at Target! But you can also make these with lean ground beef! It doesn't matter if you're looking for a vegetarian dish or something with meat, you can make this baked sweet potato recipe work for you.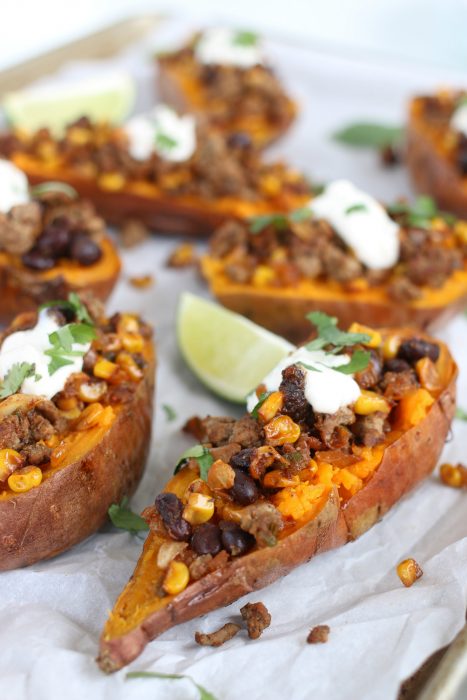 Do I have to make these baked sweet potatoes in the oven?
Here's the great thing about this tasty baked sweet potato recipe, it's very versatile. You can make these baked sweet potatoes in the oven or you can "bake" them in the Crockpot.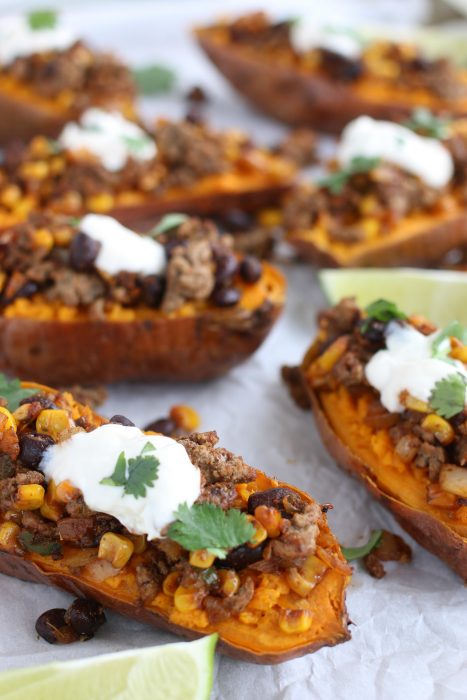 For those of you who have the Ninja Foodi (affiliate link) I've also used that to cook them and then air-fry them for a couple of minutes at the end to crisp them up a bit for a nice crunch! If you want to make baked sweet potatoes in the oven you can do that, just use the air fryer at the end if you want a little extra crunch! 
Baked sweet potatoes how long is too long?
Sweet potatoes are hearty, they can stand to be baked a little over but ideally, they shouldn't need to bake for more than 60 minutes at 350 degrees. Usually, mine take between 45 and 60 minutes to be done. 
You can tell that sweet potatoes are done when you can easily pierce it through with a knife. If your potatoes are very different in size from one another make sure to check them as they cook. Remove the ones that are done to avoid ending up with a burnt taste or others that are undercooked!
Print
Mexican Baked Sweet Potatoes
---
Description
This Mexican baked sweet potatoes recipe is so incredibly delicious. Throw this baked sweet potato recipe in the Crockpot or make your baked sweet potatoes in the oven.
---
For the potatoes and mixture:
4 medium sweet potatoes

1 lb lean ground beef or 1 package of Upton's Chorizo

1 cup fire roasted frozen corn

1/2 cup black beans, rinsed and drained

1 jalapeno, diced

1/2 onion, diced

1 TB olive oil
Seasoning: 
1 teaspoon smoked paprika

1 teaspoon oregano

1 teaspoon coconut sugar

1 teaspoon Mexican Chili powder

1/2 teaspoon garlic powder

1/2 teaspoon cumin

1/ teaspoon salt
Toppings: 
1/4 cup plain Greek yogurt

juice from one lime

2 tablespoons cilantro
---
Instructions
First, you'll want to prepare your potatoes by washing them, poking them with a fork, and drizzling some olive oil on them.

Bake the potatoes at 350 for 45-60 minutes.

Combine all the seasonings in a small bowl.

Brown either the ground beef or the vegan chorizo. Drain it and set aside.

Cook the corn in the skillet, sprinkle with seasoning and cook for 5 minutes, then add half of the olive oil, add jalapeno, onion and sprinkle with more seasoning. Cook until it becomes soft.

Add in the black beans and your meat of choice. Cook until warm. 

For the topping, combine the greek yogurt, lime juice, and cilantro. 

Assemble the potatoes by cutting them in half, adding in 1/4 of the filling per potato, and dollop with the topping!
---
Notes
These are the main ingredients you'll need to make my Mexican potatoes recipe. This works as a side dish for up to four people, but feel free to double the recipe if you're entertaining guests.
The potatoes can be any size, I usually try for medium-sized ones for even cooking!
I get my Upton's Chorizo at my local Target but you might be lucky enough to find it elsewhere!
You can use regular frozen corn but I like the fire roasted, it adds a nice extra layer of flavor to the dish.
Recipe Card powered by
Tips for Crockpot baked sweet potatoes:
When you "bake" these Mexican sweet potatoes in the Crockpot you'll need to allow some extra time. The good news is that you won't have to monitor them as closely. I like to use the slow cooker to make these baked sweet potatoes when I'm having a hectic day because it means I'll have dinner on the table with very little effort after a busy day. 
Put the potatoes in the Crockpot on your lowest setting for about 6-8 hours. If you don't have that long you can cut the potatoes in half or use the high setting!
When to enjoy this delicious Mexican baked sweet potato recipe:
I love to make these for a regular macro day, if that doesn't apply to you don't worry…you can enjoy these Mexican baked sweet potatoes any time!

If you are in a hurry this is a great dish that stands alone. It is full of flavor, has plenty of protein, and creates the perfect filling dinner recipe all by itself.