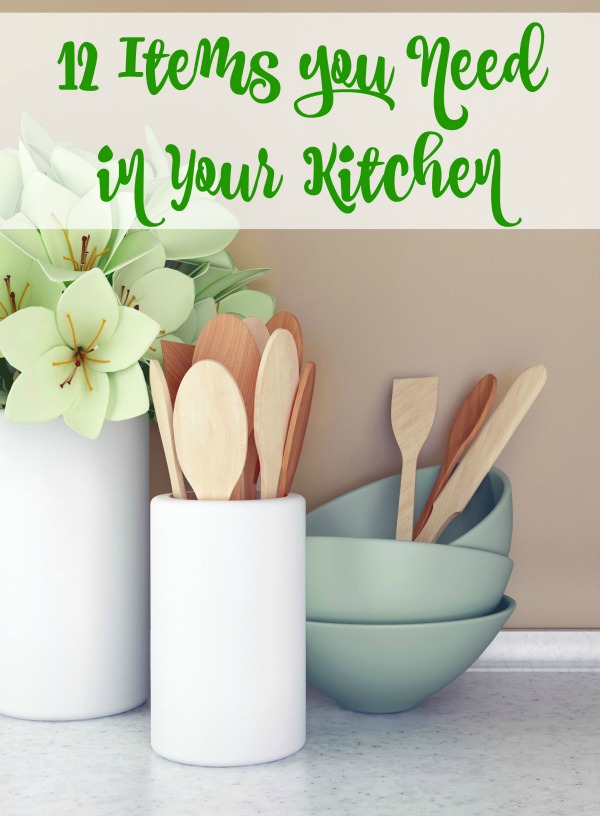 Over the years I have accumulated a frightening amount of kitchen tools, small appliances, gadgets, and other paraphernalia. In the interest of cutting back and scaling down it made me wonder what I really NEEDED in the kitchen and what was just sitting in drawers for years unused like my citrus zester or corn cob holders- dust collectors.  What items should every kitchen have beyond plates and large appliances? These are the 12 basic items that I really think every kitchen needs whether you are just setting up your first kitchen or are a pro already- I am somewhere in between there.
Wooden Spoons – Seriously, one of the cheapest kitchen tools it is one of my most used. Nearly everything that gets cooked in my house get stirred by one of these- I use them to toss salad, stir tea, lemonade and other drinks, mix soup, cake batter,etc…Get 2 sets, heck toss out all the other weird kitchen utensils you have and will never use and get 3.
Cast Iron Skillet: Yes, the old fashioned,  been around forever (there's a reason why) cast iron skillet. This sucker does double duty on your stovetop and in your oven- if you don't have one, grab one.  A 12" preseasoned is a good starter pan.
Slow Cooker: Fix it and forget it right? Anytime you don't want to heat up the kitchen or you have a long day and won't be home until dinner time (and will be exhausted) a slow cooker will be your best friend. Pop something good inside in the morning and come home to a hot meal ready to go and only 1 pot to clean up.
Did you enjoy this post? Find more money saving tips here.