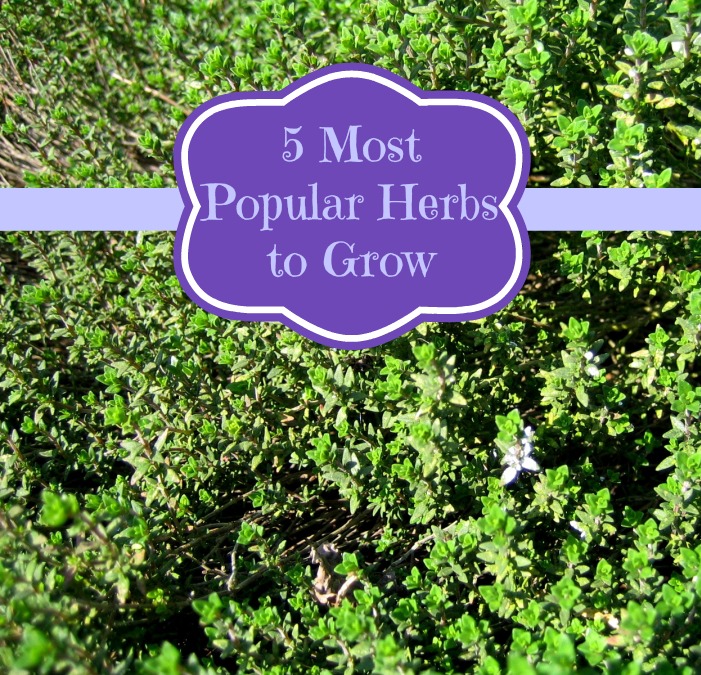 Fresh herbs in either a backyard garden or a patio container garden are a must for home cooks. There is nothing quite like having fresh herbs for your sauces or soups or to add a punch of flavor to a new recipe. Fresh herbs are great to grow and use right away or dry them and save them for later. Here are the 5 most popular herbs to grow in your garden.
5 Most Popular Herbs to Grow
Basil is the most popular herb to grow and can be grown and cultivated year round in some areas. There are hundreds of different varieties but the most popular is Genovese or Large Leaf Italian Basil as they the two that are used primarily in pesto.
Thyme is popular herb to grow for its light lemony taste and hearthy taste for sauces and soups. It is a great plant to tuck into a corner of a container or in your flower beds as it will gently vine out and produces soft white or yellow flowers.
 Onion or Garlic Chives are essential herbs to have in your garden. Not only do they naturally deter unwanted pests but they are great in so many dishes. They grow kind of like grass and will send up new shoots as you trim them down when harvesting the stems. Chives like a well-draining soil and at least 6 hours of sunlight. If you pull up the chives at the end of the season you will see a bulb on the end that is also edible.
Rosemary is an easy herb to grow and popular to boot. Its spikes are edible and it produces tiny purple flowers throughout most of the year. Rosemary can get kind of big and if planting in a container, don't plant anything else with it. If planting in the ground, give it 2 feet on either side as it likes to bush out. You can harvest the succulent spikes year round.
Oregano is a very popular herb to grow especially if you love to cook Italian type meals. Oregano grows well and trails nicely if planted in a large container or can also be used as a ground cover in a section of the garden. The leaves are ready to harvest once the plant is at least 4 inches tall.
These are the 5 most popular herbs to grow in backyard gardens. As with most herbs make sure to feed them with an organic fertilizer like compost or earthworm castings and keep them evenly watered. You can harvest their leaves and use right away, dry them for your spice rack, and then you can also toss the fresh herbs into ice cube trays with a little water and then toss those into different dishes that you make.
Did you enjoy this post? Find more money saving tips here.