Will the laundry fairy come visit my home? Purty please?
Do you watch Celebrity Apprentice? I don't normally but I watched this episode on Hulu. Here's the scoop if you don't watch: The past episode on the Celebrity Apprentice, mother/daughter team, Melissa and Joan Rivers are put on opposing teams to write, produce, and edit a viral video for ALL Small and Mighty Laundry Detergent.
Both teams originally came up with ideas involving "Little People". Yes, this 30 year old mom, would be offended with that type of campaign. I cringed throughout most of those discussions and it makes me wonder how out of touch some celebrities are with real moms! Even Perez Hilton was aware that marketing wouldn't appeal to me (or moms like me!)
Besides that, the episode was entertaining even though I thought both videos failed their core demographic. Say what you may about the Rivers duo but they keep it interesting. The after videos created by professionals are much more entertaining and appealing to moms!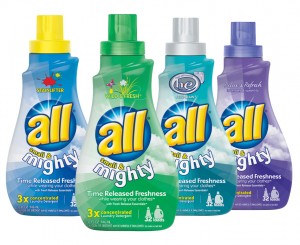 Were you able to print out your $2 off coupon on Monday? If not, you can still print out a $1 off coupon for All Small and Mighty, which is still a good value coupon. While, you are there enter to sweepskates for a chance to win 2 tickets and expense paid trip to the Celebrity Apprentice Finale.
Watch the Rivers & Rivers Video Encore at all-laundry.com. Each time you watch the videos that Melissa and Joan created, 50¢ goes to charity – Guide Dogs for the Blind and The Lili Claire Foundation. Forward it on to a friend, and 50¢ more goes to charity. The videos are hilarious and worth passing onto to friends!
All Small & Mighty 32 oz. bottle holds enough to wash a 32 loads while cutting down on packaging waste – very fitting for Earth Month. I personally love these smaller bottles because they fit wonderfully in my laundry drawer! It also comes in several yummy fragrances as well as a Free & Clear, which we use for our sensitive skin children.
What do you think of Rivers & Rivers Video Encore? Does it capture your attention for All Laundry Detergent and leave a lasting impression?