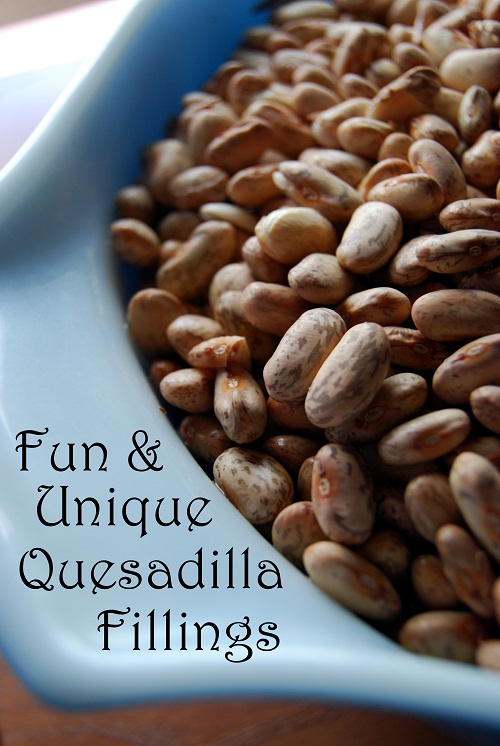 Quesadillas make a great snack or meal because they are simple to throw together, you can use just about anything to make them, and they are inexpensive. But sometimes it's easy to get stuck on the boring cheese or cheese and chicken quesadillas. Here is some quesadilla filling inspiration that should get you back on track again!
You don't have to have any special equipment to cook quesdillas but I do like to use my Cuisinart Griddler to make our quesdillas at home. If you make quesadillas often you might consider a Quesadilla Maker for your appliance collection.
Fun and Unique Quesadilla Filling Ideas
Broccoli Cheese Quesadillas – Use frozen broccoli that has been thawed and some cheddar cheese on your quesadilla.
Taco Quesadillas – Sprinkle some cheddar cheese, black beans, diced jalapenos, and some diced tomatoes on your quesadilla.
Pizza Quesadillas – Use some pizza sauce, pepperoni, mozzarella cheese, and mushrooms on your quesadilla.
Mediterranean Quesadillas – Sprinkle a little feta cheese, olives, and smoked sausage on your quesadilla.
Sunny Chicken Quesadillas – Use Ricotta or mozzarella cheese and sun dried tomatoes, and cooked chicken on your quesadilla.
Dessert Quesadilla – Spread cream cheese on the tortillas and top with sliced strawberries. Dip or top with chocolate sauce.
Beef N Cheese – Use shredded beef (could be BBQ beef) and mozzarella cheese on your quesadilla.
Breakfast Quesadilla – Use a cooked scrambled egg with cheddar cheese in your quesadilla.
Salsa Chicken – Use cooked shredded chicken, salsa, cheddar cheese, sour cream, and some black beans on your quesadilla.
Bell Pepper Quesadillas – Use mushrooms, bell pepper, onion, and pepper jack cheese in your quesadilla.
Fun Cheese Quesadilla – Use cheddar cheese, mozzarella cheese, Monterey jack cheese, feta cheese, ricotta cheese, pepper jack cheese, or any combination of these cheeses on your quesadilla.
Easy Salsa Quesadilla – Use salsa, chicken, and cheddar cheese on your quesadilla.
Onion Quesadillas – Use caramelized onions, spinach, and mozzarella cheese on your quesadilla.
All of these quesadilla ideas will make great quick and easy lunches, breakfasts, snacks, and dinners. What are some of your favorite quesadilla toppings? For what meal do you usually eat a quesadilla?
Did you enjoy this post? Find more money saving tips here.