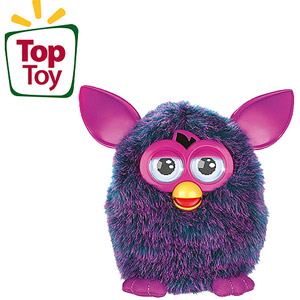 Like it or not, the Furby is going to be a hot holiday toy item this year! There are commercials up the wazoo and kids everywhere are talking about the new Furby.  Mark my words this will be THE toy you will be fighting to find this year.
I remember these were popular back right around the time my oldest daughter was born – 1998ish. Our Furby would mock her cry. Hopefully, that didn't damage her or anything! :) My younger brother eventually locked his Furby in the closet and we think the Furby may have went nutso from the lack of human interaction.
Anyway, the new ones are way more high tech and cool! Someone on your list is going to want one so buy it now before the holiday madness begins so you can sit back and relax. Hopefully, we will find some deals on Furby this holiday season but since it's so hot, I'm guessing there won't be many deals out there – it will be a "get it when you can" attitude.
Hasbro sent us one Furby to try out and I purchased another one online because I wanted to see the two Furbys interact with one another.  As soon as I put the batteries in our Furby toys the kids went nuts and so did the Furbys.  They say the Furbys will take on the characteristics of their owner and I heard Sofia's Furby sing songing "blah, blah, blah."
Some of the high tech features for the new Furby are multiple sensors, LED eyes, Furby app, and not only does the new Furby speak "Furbish" it also learns a little English along the way – like "blah, blah, blah." The more you play, the more the Furby changes! Feed it, play with it, tickle it, talk to it, play music it for it, and more!
With the free Furby app, you can virtually feed the Furby, access a Furbish to English dictionary, and use the Furbish to English Translator.
Furby is available in six fun colors and requires 4 "AA" batteries.
How to Turn off Furby? 
Um, yeah, that's pretty much the worst thing about this toy is there is no on/off switch lest you remove the batteries. We did try a few experiments and our best try was to put Furby back in it's original box, place in a quiet room, and not sure if that worked as I still hear Furby yelling "Yoo Hoo."  This did work after about 5 minutes of quiet in the closet.
Bottom line: The new Furby is just as annoying as the old Furby, which makes it an instant hit with kids! 
Find the latest Furby deal posts here.
Want to save loads of money this holiday season? Find the latest holiday deals I've posted about. You can also check out the Hot Holiday deals,  Giveaways, Online Coupon Code Database, and my Holiday Gift Guide. These pages are being updated often.
Product was provided in order to facilitate this review.  Post was written 100% by me and was not edited by the sponsor. Read more on my Disclosure Policy.