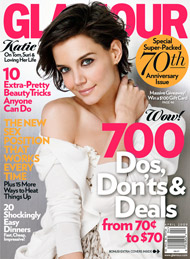 I don't usually post unless it is free but this is an outstanding Glamour Magazine offer. Glamour is  celebrating their 70 year anniversary and going retro with the subscription price – $1.50 was the price in 1939. So if this is a magazine you enjoy, save a bundle with this G-L-A-M-O-R-O-U-S offer.
Hurry because the offer is only good until March 15, 2009.
Note: It auto-renews at full price after 1 year so be sure to cancel 60 days before your expiration date.