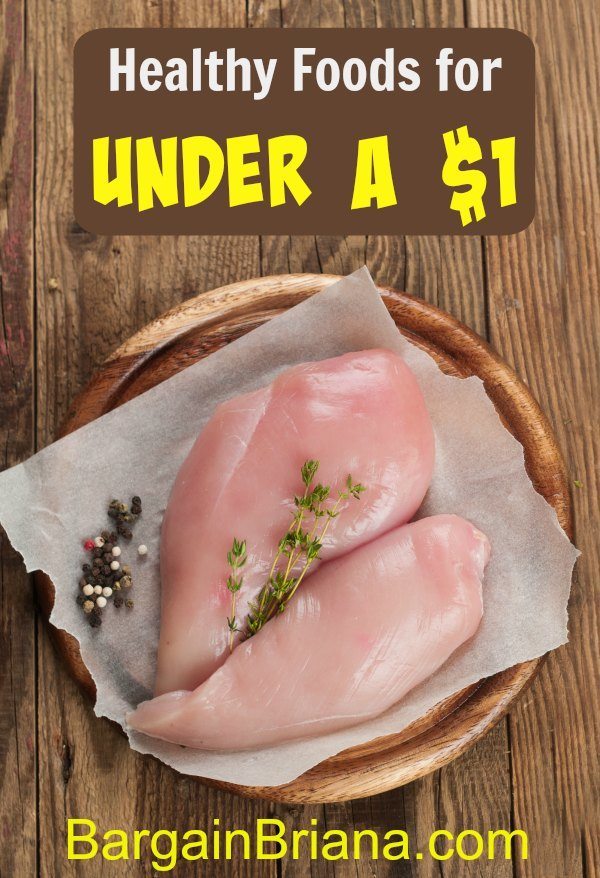 Are you trying to eat healthy and stick to a budget at the same time? If so, you will love this list of healthy foods that cost under $1. Yep, you read that right — $1 for some foods that promote healthy living and are easy on the budget. Check these out!
Healthy Foods for Under a $1
Black Beans
Black beans are packed with protein and fiber as well as other healthy goodness. They are also super cheap if you buy them in a can (around $1 for a can) or even cheaper if you buy them dry and cook yourself.
Almonds
Reach for a great snack that is both healthy and tasty. Almonds hit the spot without breaking the bank. An ounce of almonds cost roughly around 60 cents (give or take) so they definitely fall in the budget-friendly range.
Eggs
Eggs are eggs-ellent choices for cheap and healthy eating. While a dozen of these babies will cost around $2, just a couple of eggs are all you need for a filling, healthy meal and a cost of about 19 cents each.
Oats
Oats are cheap and good for you. Whip up some oatmeal for a healthy breakfast or add oats to your recipes (substitute oats for some of the flour in your favorite cookie recipe and get ready to have your taste buds blown!). At roughly $1 per pound, you just can't go wrong!
Chicken Breasts
Chicken breasts are quite versatile and can be rather cheap if you know where to look. Some stores will offer them for $2.99 per pound, but if you do some smart shopping, you can find them on sale or in bulk for much cheaper. Whether you grill them, bake them, or throw them into the slow cooker, chicken breasts can be very healthy and easy on the wallet.
Canned Tuna
Tuna can cost around 75 cents per serving, making it a budget worthy food. Healthwise, it's a great source of Omega-3 fatty acids and add a little Greek yogurt and chopped veggies, you've got a great tuna salad that is healthy AND cheap!
Yogurt
Yogurt is an excellent choice for healthy eating on a budget. Depending upon the yogurt brand and type, you can usually get a small cup for under $1 or you can invest in a larger, bulk size for bigger savings. Either way, as a snack or an ingredient in healthy meals, yogurt can't be beat.
These are just a few of the great, low-cost choices for healthy eating that can be added to your diet. Other inexpensive choices include popcorn, quinoa, cantaloupe, bananas, apples, pumpkin, kale, and carrots. Remember, eating healthy doesn't have to break your budget or send you to the poor house. It's all a matter of knowing what to choose and making those choices.
Did you enjoy this post? Find more money saving tips here.