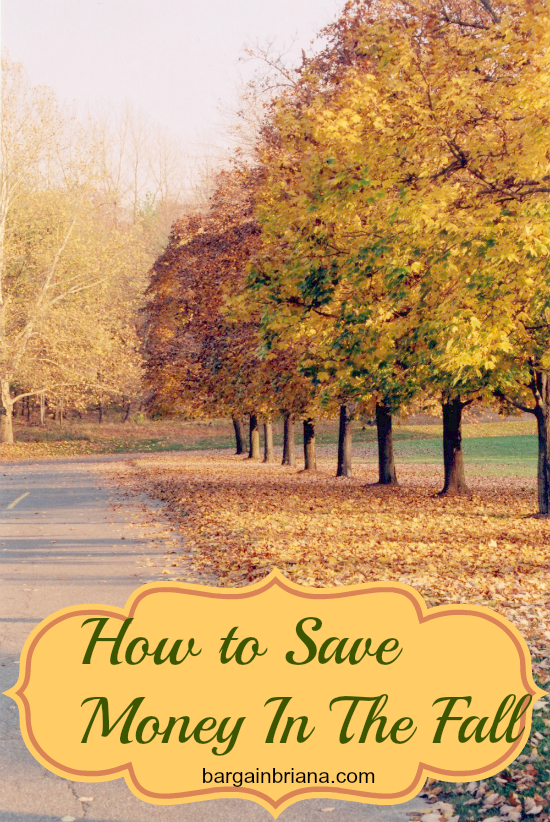 Fall is one of my favorite times of year. It isn't usually to hot and it's not to cold. I love being able to open up my windows and smell the fresh air. It is also a great time to give my A/C a break from the summer heat and it isn't quite time to turn on the heater either. I also really love all the awesome sales during the fall months.
How to Save Money During the Fall
Save on Back to School Clothes
Most families have already completed most of their back to school shopping. However, this is a slow time for most department stores. The back to school rush is over, people aren't yet buying for Christmas, so the stores need to get people in and shopping! Watch stores like Kohl's, Macy's, Marshall's and any other stores very closely for big sales! Kohl's will often offer their Kohl's cash promotion during the fall months. If you haven't picked up all your back to school items yet, not to worry more sales will be coming your way.
Save on Thanksgiving
Thanksgiving is the biggest holiday during the fall months. Stores will start offering great promotions on cookware, fall decorations and popular food items. This is a great time to start stocking up on canned goods, spices and other items you will use during the holiday season. Watch the Sunday paper for coupons and printable coupons to match up with these sales.
If you need any fall decorations take full advantage of the awesome sales that will be going on. The Dollar store will also start putting out fall and winter items. Start watching for those displays and grab what you need before they get picked over.
Save on Family Fun
Fall is one of my favorite times of year to get out and enjoy the outdoors with my family. There are always so many fun things going on! Take the kids to the pumpkin patch, enjoy a harvest festival or go visit the local farmers market. Typically, fall entertainment doesn't cost a whole lot but I still like to save money when possible.
Check with your local Chamber of Commerce, Visitors Center, supermarket or even local fast food stations for coupons to local events. A lot of times harvest festivals will have discounted days. Make sure to look into any type of promotions before you go. I don't know about you but if going to a fair on a Sunday saves me $5, then I'm going on Sunday!
Save on Appliances
Fall is the perfect time to purchase new appliances. It is almost time for the stores to stock the floor with the latest models. The stores need to get rid of their current inventory in order to make room for the new models. You will usually find appliances starting to be marked down during the fall months. If you are in the market for any new appliance start watching the sales very closely. Also ask about floor models as the store will often deeply discount these items due to cosmetic issues.