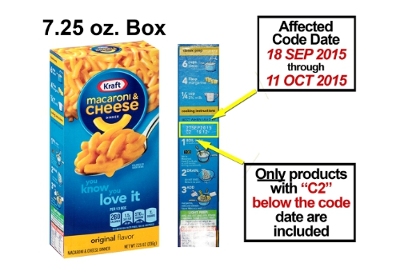 Kraft Foods is voluntarily recalling select Kraft Macaroni & Cheese Boxed Dinners due to possible metal pieces. We keep a few of these on hand and I checked mine are we are good. No injuries have been reported but I definitely don't want to possibly be eating metal pieces. Here is what you need to know about this recall.
What You Need to Know About the Kraft Macaroni & Cheese Recall
The recalled product is limited to the 7.25-oz. size of the Original flavor of boxed dinner with the "Best When Used By" dates of September 18, 2015through October 11, 2015, with the code "C2" directly below the date on each individual box.  The "C2" refers to a specific production line on which the affected product was made.
Some of these products have also been packed in multi-pack units that have a range of different code dates and manufacturing codes on the external packaging (box or shrink-wrap), depending on the package configuration (see table below).
Recalled product was shipped to customers in the U.S. and several other countries, excluding Canada.  The affected dates of this product were sold in only these four configurations:
7.25 oz. box, Original flavor
3-pack box of those 7.25 oz. boxes, Original flavor
4-pack  shrink-wrap of those 7.25 oz. boxes, Original flavor
5-pack shrink-wrap of those 7.25 oz. boxes, Original flavor
The recalled product was shipped by Kraft to customers nationwide in the U.S.  The product was also distributed to Puerto Rico and some Caribbeanand South American countries — but not to Canada.
How to Get a Refund if You are Affected
Consumers who purchased this product should not eat it.  They should return it to the store where purchased for an exchange or full refund.  Consumers also can contact Kraft Foods Consumer Relations at 1-800-816-9432 between 9 am and 6 pm (Eastern) for a full refund.
Find more information over at the Kraft Foods Newsroom.