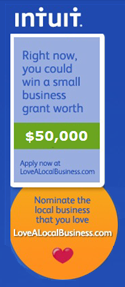 Love a local business? Now is your chance to reward that business by nominating or voting for them in the Intuit's Love a Local Business competition. Intuit is helping small businesses achieve their dreams by awarding $25,000 every month to a local business!
Watch the video and you will see how much these grants have meant to local businesses. They have been able to expand their companies with the resources they have won. If you love a local company and want to help them grow, this is your opportunity!
My business is online but it still takes resources to keep it going – and it's hard work! When I first started BargainBriana.com it was just a fun hobby to share my bargain shopping with one person! I'm completely amazed by the turn it has taken – becoming a small business! There is still much more I could do with additional resources! 
Love BargainBriana.com? Vote for me in the Love a Local Business Competition! I would love to use the resources to devote to more deal hunting, further development and automation of the Frugal Map, and helping YOU save more money! Votes are similar to raffle tickets – each vote a business receives is a entry for a chance to win! The more votes, the more entries! 
Plus, in July, Intuit is awarding $50,000 in grants to businesses in the two cities voters love the most! Your nominations and votes will help YOUR local small businesses. It takes less than a minute to nominate or vote for your favorite! What are you waiting for?
It's been very exciting starting my own business, so I'm curious to know: What dream business would you love to start? By replying you will be entered to win an iPad 2!
This is a sponsored conversation written by me on behalf of Intuit's Love A Local Business competition. The opinions and text are all mine. Contest runs July 6 to August 9, 2011. A random winner will be announced by August 11, 2011. Official Contest Rules