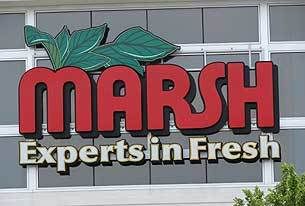 To see the most recent best Marsh Deals head over to the Marsh Grocery Savings Page
While Marsh may not seem to be the best place to save on your grocery bill, you can and will save $$ when you stock up on sale items. (I've walked out with 10 jars of Pasta Sauce for Free in the past!!!) For us rural dwellers, it is local so you don't have to drive 20 minutes to Kokomo or Noblesville to shop there!
Getting started at Marsh:
Sign up for a Fresh Idea Card (this is how you will get most of your savings!!!) Make sure to link your fresh idea card to a worthy charity. They will get a % of your spending.
Sign up for email offers and link your card to your email address. They will email you exclusive weekly offers or requests for surveys! I received a free Marsh Grocery Sack for completing a simple survey!
Sale ads for Marsh run from Thursday until Wednesday. The ad is usually in the Wednesday evening paper of the Tipton Tribune. It is now available online on Wednesdays!!!!
Marsh does accept Internet Coupons. However, they will not accept photocopies, $5 or more, coupons for free items, altered coupons, or coupons purchased. They will accept all other coupons (ones from magazines, newspapers, etc.)
Marsh doubles up to .50 cents. So a coupon with a face value of .35 will actually be worth .70 at Marsh. Check with your local Marsh for any other restrictions. I've never had a problem using coupons at my local Marsh, they are VERY coupon friendly.
Sale Limits
You will notice in the ad if there is a limit on a particular item. Usually it will be limit 2, etc. If it is something you want to stock up, you can make multiple trips in the same week. Another way, is to shop with your spouse and have them place an order.
Buy One Get One Free Sales
At Marsh, if it is a Buy One Get One Free Sale, you can use TWO coupons if you have them.
Manufacturer's Coupon & Store Coupons
You can use one manufacturer's coupon and one store coupon per item purchased. This is a trick most people get confused about. Since the manufacturer is reimbursing the manufacturer and the store is reimbursing the other coupon, you are allowed to use these two types of coupons for one item.
Rain Checks
Marsh does offer Rain Checks. They are good for 14 days from the date of issue. You can ask for them at the register.
Misc. Hints
If it is a 10 for $10 sale, you do not have buy $10 to get the item for $1. (They try to trick you by advertising "Mix & Match." You can buy 10, you can buy 1, or you can buy 11 and still get the item for $1.00. It is the same with 3 for $5, etc. The only time you do have to buy the quantity state is when the ad specifically states it.
If you live in Tipton and your child attends either the public school or the Catholic Elementary, you can buy "script" through the school and earn $$ for your school. Basically, you buy X amount of gift cards and the school gets a percentage.
Marsh has two ads. One they advertise through the newspapers, etc. and another one that is only available in the store. You can view both of them online before you shop.
UPROMISE
If you have an account, make sure you link your Fresh Idea Card to your Upromise Account. If you do not have an account, you need to sign up TODAY!
I'm sure many of you have heard of Upromise but are you using it? If not, you need to. It is FREE (we LOVE free!!) and it earns you money for your child's savings. You can keep the money in Upromise or open a 529 with them and have it automatically transferred. If you don't have kids, you can do this for someone else too! Since I've been a member, I've earned over $500 for doing nothing extra but my basic shopping. At a minimum, you need to sign up just to link your shopping cards (Marsh Fresh Idea Card, Kroger Plus Card, CVS ExtraCare Card, Meijer Card, etc.) You will get a % from participating grocery items. Which is fantastic when you are already buying those items at a reduced cost or getting them for free!
Click on the banner below to start your savings. You must click on the link below to get your $10.