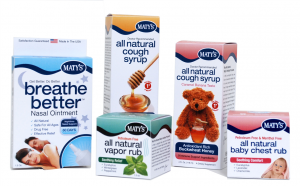 It's that time of year – cold season! It has already hit our house slightly in the past month with our youngest. I was glad we had the natural cough remedies from Maty's in our house. It never fails whenever she gets the slightest cough or sniffle, she just has to have some type of medicine for her cough or cold.
At Maty's we've combined modern knowledge with age old healing ingredients such as antioxidant-rich buckwheat honey– high in vitamins and minerals and known for its restorative properties. There are never any artificial preservatives, color additives or sweeteners, no corn, dairy, wheat, soy or yeast. Maty's Healthy Products are safe and effective–made in the USA using socially responsible practices.
Since she did have a legitimate cough, you know sometimes kids say they need medicine just because they have one little scratch on their throat, I decided to try out the natural cough syrup from Maty's. We started out with the All Natural Kids Cough Syrup. It has a very unique flavor – beyond grape and cherry that you will find from most  – caramel banana flavor! It is super thick and was a little difficult to get out of our plastic dosage cup.  I remember my mom used to have a medicine spoon that looked almost like a regular spoon but with marks to indicate the dosage. Something like that would probably work better if you have it.
I will say even I was impressed with the taste of the cough syrup. With a flavor like caramel banana you think I wouldn't try it? Of course, I'm going to try that. It was delicious without being overwhelming. I did have to make sure to tell my daughter that this wasn't candy but I think the thickness of it would prevent her from guzzling it down – along with safety precautions like putting up in the cabinet and such.
It did help relieve her of her cough symptoms. I loved that she liked the flavor and texture and it is a natural, safe cold relief for cough and cold symptoms for my children.
Why all natural remedies? Any over the counter cough and cold medicines have risks and some alternative treatments are not suitable for children. I know many of you have heard of the news stories about parents accidentally over-dosing their children with OTC medications. It's a little scary to think it's that easy to do. Maty's uses age-old tradition of all-natural remedies, which are good for the body and the environment. You can rest assured you are getting the most effective ingredients without any of the dangerous side effects that other OTC remedies may cause.  **This is not medical advice, just my own personal opinion.**
The full line of products includes: 
All Natural Baby Chest Rub: Two time award winner & no harmful side effects
All Natural Kids Cough Syrup: Safe, immune-boosting, and a taste kids love
All Natural Cough Syrup: With antioxidant rich honey & immune support
All Natural Vapor Rub: Petroleum free & drug free.
Breathe Better Nasal Ointment: Drug free & safe for all ages
You can find Maty's products in-stores at stores like CVS, Walmart, Meijer, Giant Eagle, and online at Amazon.com. Check out the store locator to find more places to purchase.
Read more reviews from Bargain Briana or at the Buzz by Bargain Briana.
This post is sponsored by Maty's. Post was written 100% by me and was not edited by the sponsor. Read more on my Disclosure Policy.