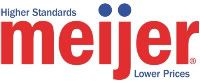 Go HERE to see Meijer's 2009 BLACK Friday AD!

I received early access to Meijer's Thanksgiving & After Thanksgiving Sales! I've highlighted some of the great deals below and you can view the entire ads via PDF. (Every year, I say I'm not going out on these days but some of these deals look too good to pass up!)
::Thanksgiving Day Deals (Thursday)
Sylvania 32″ LCD TV $379
Apple 8 GB Ipod $149.99, Get $50 Mail in Rebate (via custom coupon at checkout.)
Buy Wii Fit @ $86.99, Get Wii Fit Workout Kit Free ($49.99 value)
Huggies Mega Diapers $10.99 (Limit 2)
– $1/1 (10-26 S)
Final Price: $9.99
Select Children's Games $4
Little Tikes Easy Score Basketball Set $17.49 (Save $17.49)

Buy Any Rock Band 1 or Rock Band 2 Special Edition Bundle, Get any Stand Alone Video Game Guitar Free.
Select Blu Ray Movies $9.99
gfm 46GB USB Flash Drive $9.99 (Save $30)
Leap Frog Learning Friend Todd $9.99

::Black Friday Deals
gfm 42″ Plasma HDTV $499.99
15% off Any One General Merchandise Item with Coupon
Buy One Nintendo Wii, Get Wii Game Party & gfm Controller Skins FREE
Suave Body Wash 12 oz. $1 (Buy 2 for coupon)
– $1 Buy 1 Get 1 Free Coupon (10-5 RP)
Final Price: .50/each
Suave Shampoo or Conditioner 22.5 oz. $1 (Buy 2 for coupon)
– .75/2 (9-21 RP) or .50/2 (11-16 RP)
Final Price: .63/each or .50/each
Revlon 50% off
$1/1 Revlon Color Cosmetic product (11-16 S, 10-12 S)

$2/1 Revlon Color Cosmetic product (9-14 S, 8-24 S)


$1/1 Revlon Beauty Tool (11-16 S, 10-19 S, 10-12 S, 9-14 S)



::Saturday Deals
Santa Bucks Coupons $4 off to $20 off
Buy any Guitar 3 Hero 3 Bundle or Guitar Hero Aerosmith Bundle, Get one Stand Alone Video Game Controller FREE.
Sylvania 37″ LCD HDTV $499.99
Don't miss out on any deals: Subscribe to my free newsletter via email or RSS.