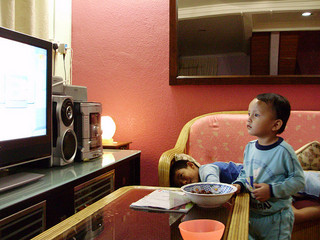 If your family is big on movies, music and all the technology that goes along with these things these days, you may find your monthly home entertainment costs a strain on your budget. But you don't have to cut down on movies and music; the trick is to find sources that offer what you want for the best price.
DVDs
There are many ways to watch DVDs, and your best bet is to choose from a subscription package or a pay-per-rental model depending on how many you watch. Netflix offers two subscription models for $7.99 each: One enables you to order DVDs in the mail, which is ideal if you have a slow Internet connection or want new releases. The other lets you stream movies and TV shows. Of course, you could order both for just under $16 a month.
If you're more of an occasional viewer, one Redbox rental costs $1 per night. With kiosks located in grocery stores and shopping plazas, you may not even have to go out of your way. If you return it later than one day, you will pay extra. Blockbuster offers DVDs, but at a much higher price point than either Netflix or Redbox. For a free alternative, check out your local library's DVD collection or try Crackle, a free service from Sony.
If you've got young kids who have a favorite DVD, purchasing this one favorite may be cheaper than paying to rent it. You might be able to find a secondhand copy at used bookstores and pawn shops to keep costs down.
TV Shows
Check your favorite programs' network websites. Sites like ABC.com often offer the last several episodes of a show online for free viewing. Streaming media sites like Hulu (free) or Hulu Plus ($7.99 per month) offer many television shows as well. Hulu typically only offers the latest episodes, while Hulu Plus can give you access to full seasons. If you find you are paying one fee for streaming movies and another for streaming television shows, it might make sense to purchase a subscription to directstartv.org and pay one low price for high definition TV and premium content.
Streaming Music
Pandora has been around for more than 10 years, but it's been facing increased competition from other streaming music apps in recent years. While Pandora does have a zero-cost benefit, you have limited control over what you listen to and a limited number of skips per station. Another free option is Songza, which allows you to select a channel—Martini Swing or Today's Pop Hits, for example—and plays a DJ-curated list. This can be a smoother experience than Pandora, which tends to switch up genres occasionally.
If you're willing to pay for control over what you listen to, consider spending $5 for a PC subscription or $10/ month for a PC-and mobile subscription to Spotify, a Sweden-based streaming music app. Alternately, streaming music service Rdio has an $18/month family plan that relies on your social likes to curate playlists for you.
Photo by Flickr user Jerine