Thanks to RIDEMAKERZ & BSM Media we were invited to a Ridemakerz Blogger Event at Castleton Mall. What fabulously fun morning. My boys (8 & 4) are still talking about it and enjoying their custom creations from the time they get up in the morning until the battery needs recharged.
You might remember last month, we received a Ridemaker in the mail to review. The kids had fun putting together their Green Mustang Ride but even more fun with the ability to be creative in the actual store.
The staff at Ridemakerz was fun and full of energy. They were all very patient with the kids while making their Ridemakerz experience one to remember. Today as we were looking through the pictures, my son lamented that he remember the man who helped us and said "I like him, when do we get to see him again?"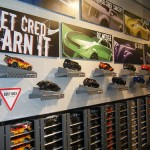 So what is RIDEMAKERZ? Before I originally reviewed RIDEMAKERZ at home, I've walked past this store a few times and didn't really know what it was all about or realize the connection with Build-A-Bear. Ridemakerz is basically Build a Bear with wheels. From body and paint styles to customized license plates, YOU choose how you want your Ride designed the entire way.
First you choose your body & paint style. My four year old kept asking us which one we wanted him to get. He almost choose the one his older brother wanted him to get until I reminded him to pick the one HE wanted not the one brother wanted for him. They even picked out a pink for their sisters, which I was able to design! All the choices, all the choices…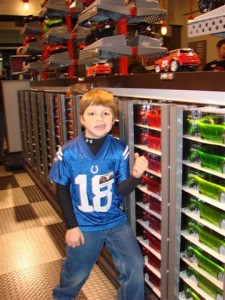 I think I want the silver. No, the red.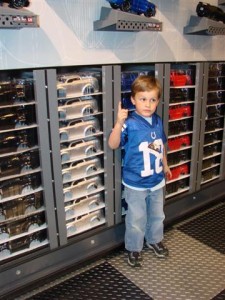 Uh, maybe the blue?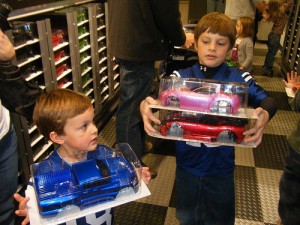 Next you Sonicize. You can pick many different sounds including electric guitars, city beats, sirens, whistles, squealing tires, and revving engines.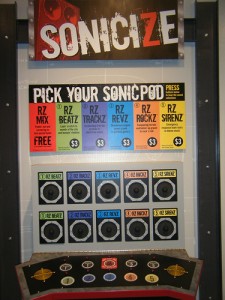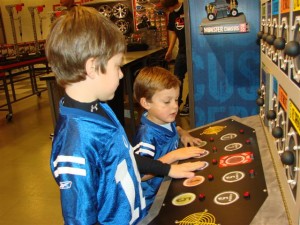 Motorize. You can choose to Rev up your ride with Radio Control for an additional $25. (This can be added on at any time.)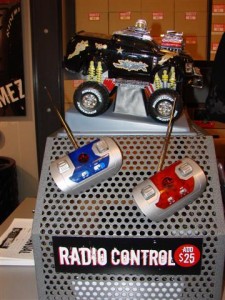 Mobilize. You also choose whether you want your RIDE to be street or monster. The boys both picked monster of course! At home, we've discovered all the fun things the monster trucks/cars can do. I don't know if it is "official" but they can spin upside down, spin on the back two wheels, and do all sorts of interesting tricks!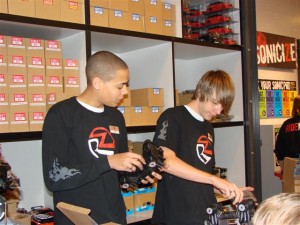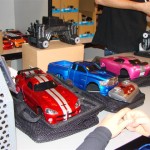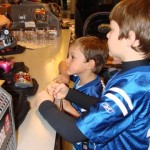 Now time to pick your wheels & treads. We picked out our wheels & treads! They had a variety of colors to choose from. Boys picked out gold wheels. I was surprised they didn't pick the pirate design. I picked TARANTULA wheels for the pink ride!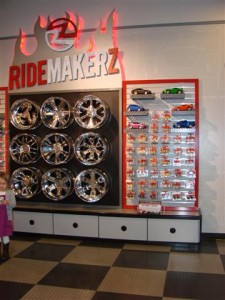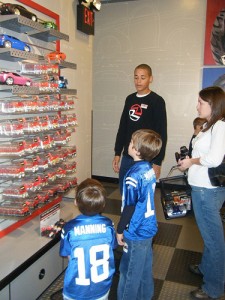 Now the race is on! At this station, you race against the clock or a friend to put your wheels & treads on your Ride! Our youngest had help but my oldest son and I raced! Of course, he won!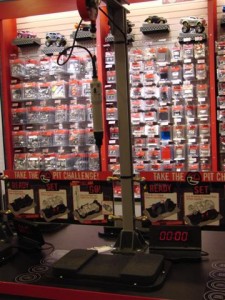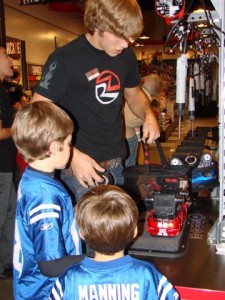 It was so easy to use their electronic gadget! If you aren't at the Ridemakerz store, you use a hex screw driver that is shaped like a key. Pretty cool!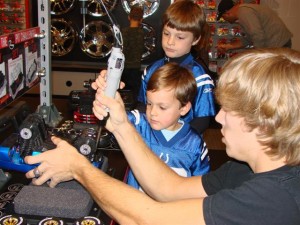 They line your wheels & treads up so you are ready to be timed!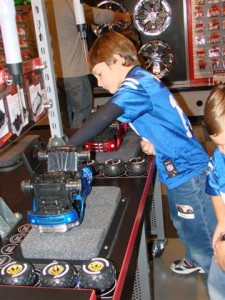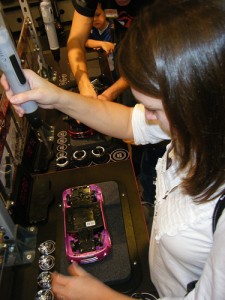 It is now time to Customize your ride. So many different choices and different items to choose from. If you don't want to spend the money upfront, these items would be AWESOME stocking stuffers! The boys ended up choosing different stickers, police lights, and a few other accessories I don't know the names of…but the boys think are the coolest! I picked a purple light bar to spice up the pink RIDE! I also found cute pink stickers to decorate it!
So many choices! This is only a couple racks of the numerous racks you have to choose your cool items from.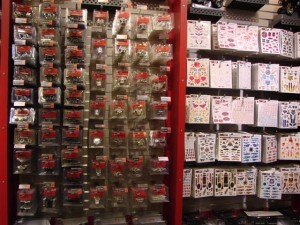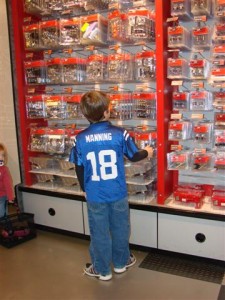 Decisions, decisions!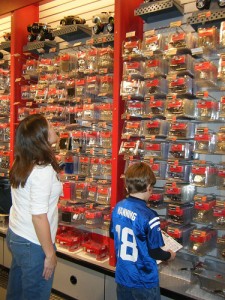 Getting help putting stickers on.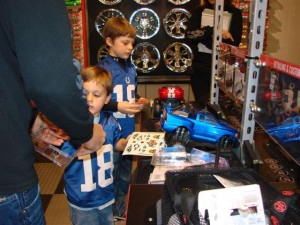 This one couldn't wait to play with his car. Since there is 3 channels to choose from, if everyone tried to play with their remote controlled vehicle at once, it would be a mad house!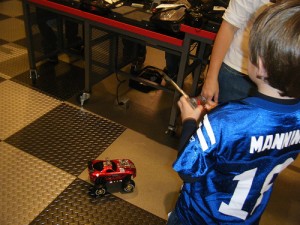 One last thing to do before you check out and see your damage. Personalize. It is so cool as you slide your car into this garage looking scanner. It scans your car and you can make your own personalized licensed plate and register your vehicle. You can even input your time into your personalization.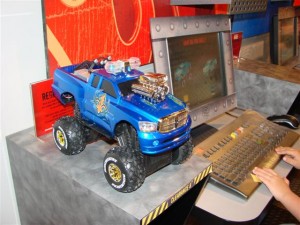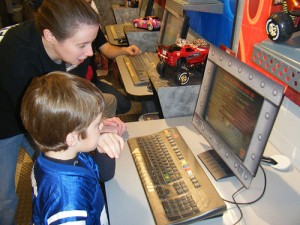 A few more pictures! We truly appreciate the generosity of RIDEMAKERZ & BSM Media. We had a great day that is going to provide countless days of fun!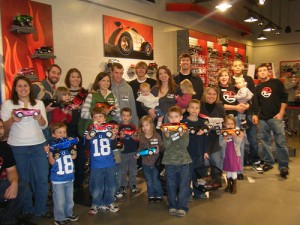 A few bargain tips: If you are on a budget, keep a close eye on what your child is adding. You don't want to get the register with a big surprise. While, we were able to add any and every accessory we wanted, it can be fun and AFFORDABLE! The free wheel stock RIDEZ are priced from $12-$32 – so your child could have the whole experience for as low as $12. You can then add accessories, remotes & battery chargers at any time. This way you don't have to spend $75 or more at one time. You can order online or come back to the store for a piece here and there. (Great idea for Grandparents too – they can help your child add to their car for special occasions!) If you do buy the remote, the battery pack is a very good investment (unless you are a regular CVS shopper and get batteries for free on a regular basis!) because the disposable batteries don't last very long. They also move faster and stronger with the battery pack as my kids have pointed out!

Right now, you can get a free RIDEMAKERZ Calendar (Dec. 1-31) with any purchase online or in-store. Featuring RIDEZ customized by Chip Foose. (It is a very nice LARGE calendar with awesome pictures in it!)
Special for Bargain Briana Readers: RIDEMAKERZcoupon code: By entering the code 93444 you will be entitled to $10 off a $30 RIDEMAKERZ purchase. This offer expires on January 4th, 2009.
So you want to win the $75 Gift Certificate to RIDEMAKERZ?
RIDEMAKERZ has given me (1) $75 Gift Card to give away to one of my readers! (Don't worry if you don't have a store near you as you can order everything you need online.)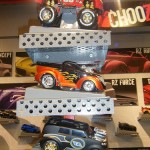 Easy Entry: Visit the RIDEMAKERZ and tell me which body style you would choose! (Might even mention who you would give this too or maybe you want it for yourself!)
Bonus entries (Up to 4 additional entries):

Blog about this giveaway.
Grab my button. (It is on my sidebar)
Subscribed to my free newsletter via email or RSS. (You don't want to miss out on any deals/giveaways!!!)
Digg, Technorati, Twitter, Stumble, etc. (Just choose one please!) If you twitter, be sure to include me (@bargainbriana) in the twitter so it see it!
Leave a separate comment for each extra entry. It is very important that you leave a separate comment for each additional extra entry!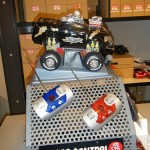 Ends Saturday, December 20th around 11pm PST. (As long as you can still comment you can enter!) Winner will be announced on the 12/21 and I will contact you to get your mailing address. I will ship this out as soon as I receive your mailing address. This should give enough time for the gift card to be in your hands before Christmas! Only US residents for this giveaway! (If winner doesn't respond within 48 hours with their mailing address, I will pick another winner.)
Additional Sites Giving away a $75 Ridemakerz Gift Card: Every blogger at the event is giving away a $75 Gift Card. They may have different deadlines, requirements, etc. I will update this list as their giveaways are posted! So check these blogs out for more chances to win:
Amy, Fourth Frog
Angelica Grace Designs (awesome pictures of course!)
Indy Dads
Emily, Designhermomma