Are you traveling for Father's Day? Are you traveling for fun this summer? Whether you are going to visit your dad or headed for a summer vacation, this is a great time to use some of the Miles you have saved up with your Discover it Miles® card. The Discover it Miles card includes 1.5x Miles for every dollar spent on purchases. Also, as an introductory offer, Discover it Miles cardmembers will now receive double the amount of Miles they've earned at the end of their first year, with no spending cap.
If you have been saving up Miles on your new card, now is a great time to use them. You can redeem your Miles towards your Father's Day travel purchases including commercial airline tickets, hotel rooms and car rentals. Whether you are a headed to a classic car show with your dad like my husband or just flying home to see him, this is a great way to help you save on the trip.
My dad lives right down the road so I don't have to travel far to see him. If you are like me and have your dad close, there are other ways Discover can help you save on your Father's Day activities. Cardmembers can earn 5% Cashback Bonus® on up to $1,500 in Restaurant and Movie purchases when they activate their 5% Cashback Bonus® this quarter. This means you can earn 5% Cashback Bonus® when you take your dad out for lunch! My dad is somewhat of a hermit but I might be able to convince him to go out for lunch on Father's Day!
How will you be celebrating your dad this Father's Day?
Keep up to date on all the latest Discover news on Discover's Facebook page.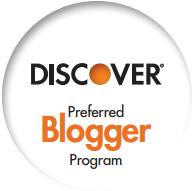 My views are my own and do not necessarily reflect the views of Discover Products Inc. and its affiliates. This post was sponsored by Discover Card. Rest assured, this Post was written by me and was not edited by the sponsor. Read more on my Disclosure Policy.