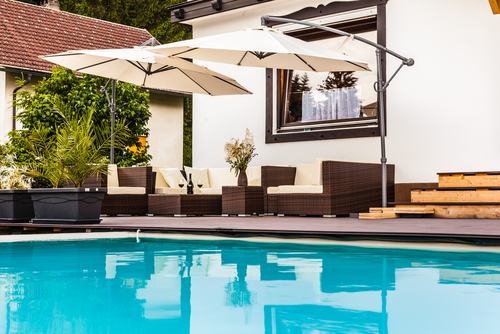 Looking for cost-effective projects that will make your living space more welcoming and improve the value of your property? Here are a few easy updates that can have a big impact.
Curb Appeal
Increase your curb appeal by applying a fresh coat of paint to your front door. If you're brave enough, go bold. Opt for a bright yellow, turquoise or classic black. Then add some artful container gardening on the front steps. Choose a variety of sizes for your flower pots and fill them with annuals or herbs for an inviting and charming entrance.
Outdoor Living
Invoke the luxurious feel of a vacation resort in your backyard by extending your living space to make your home seem larger. Set the stage with stylish patio furniture, various potted plants and greenery and a fountain. Make sure to choose an umbrella to complete the look of luxury. Then add a fire pit or a patio bar with some stools to make the outdoor room feel like the perfect gathering place for friends and family.
Big Greenery
Create a lush look by adding lots of easy-to-maintain plant life. Look for plants that are well-adapted to your climate; many state universities will have extension services that provide a wealth of information about your specific climate and the plants that will thrive in your area without a lot of effort.
Out with the Old
Older houses often have lovely wood-framed windows that end up getting replaced with vinyl windows due to cost, much to the chagrin of old house aficionados. Instead of removing the original windows, Indow Window Inserts can provide you with the energy savings of new windows for a much lower price, while maintaining the historic elegance of the original wood framed windows.
Instead of replacing the hardware on your cabinets and drawers, consider refinishing or painting it. Shiny brass pulls are somewhat dated, but with a little spray paint you can update the look. You'll need to sand them lightly, but it's one of the easier DIY updates.
If you have an old ceiling fan of brass and faux wood, it might be a perfect candidate for a spray paint upgrade. People do recognize their value in terms of keeping the house comfortable, but there was a long era of ugly in the world of ceiling fans. You can put things right for less than $10.
Let There Be Light
Dimmer switches for your lighting fixtures are a quick and popular upgrade. Verify that your wiring will meet code for a dimmer, and be sure to choose light bulbs that are appropriate. The project is simple after that; turn the power off at the breaker, remove the old faceplate and swap out the switches.
Get to Painting
A new coat of paint is one of the best DIY projects for any room in the house. Color can change the mood of a room quickly, so invest time in choosing a color. Before you commit, paint a couple of test patches on the wall and see how it looks at different times of the day. If you are planning to sell, a neutral color will have broader appeal to potential buyers.
Do the Doors
Tighten and straighten all of the doors in the house, and make sure none of them stick. Over time, gravity can cause doors to sag on their hinges, and changing temperatures can cause the wood to swell or shrink. Doors that snag on the floor or sit crookedly in their frames will leave an impression that the house hasn't been well-cared for.
Did you enjoy this post? Find more money saving tips here.