If you have been following, I've been decluttering my house as part of my "spring" cleaning. I type "spring" because it's still freezing here in Indiana!  Part of decluttering is going through the mounds of bank statements and other paperwork that has personal information on it.
One way to get rid of that paperwork safely is with a shredder. Fellowes sent me their new 73Ci shredder to help in my spring cleaning adventures! One of my biggest annoyances with shredders is jams. I will get overzealous and put in a huge stack of papers that gets stuck about half way through the shredding process. Then I have to turn it off so I can stick my fingers in there to get all those pieces of papers out.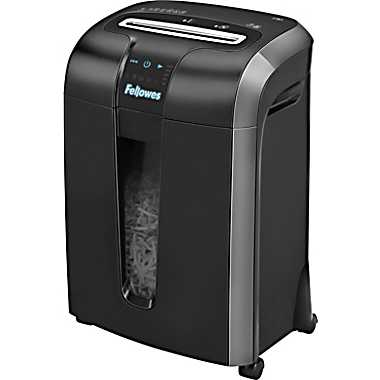 Fellowes has a new powerful personal shredded that is 100% Jam Proof! To test this claim, I took a set of checks that were gone but still had the deposit slips left it in with the spine still on it. Usually I have to tear these out to get them to go through a shredder. I put it in the 73Ci shredder and it went mostly through. A little red light came on and I pressed on the rewind button or hold down the play buttong (that's what it looks like) and it chomped up the rest. I was then able to put another piece of paper through the shredder with no incidents. I didn't have to stick my hand in it to un-jam it or anything!
Other Features:
SafeSense® Technology which automatically stops shredding when hands touch the paper opening
A proprietary Energy Savings System which maximizes shredder energy savings 100% of the time – both in use and out of use
Capacitive touch screen controls
Heavy-duty Cross-Cut blades that destroy a single sheet of paper into 397 particles, making it nearly impossible to piece back together
I put together a short YouTube video:
Shredder is available at office supply stores such as Staples or Office Max and even Amazon.  Retails for $174.99.
Read more reviews from Bargain Briana or at the Buzz by Bargain Briana.
Products were provided by Fellowes in order to facilitate this review. Post was written 100% by me and was not edited by the sponsor. Read more on my Disclosure Policy.