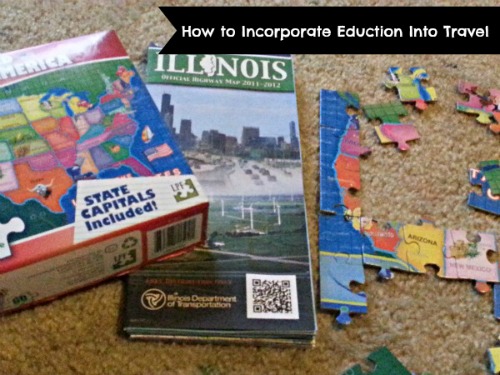 Since many of you will be traveling over the holiday weekend, we have put together a series on Traveling with Children.
For homeschooling parents how to incorporate education into travel may be of more importance than the typical family going for summer vacation, but I feel it's always important to use every opportunity given to educate our children.  Teaching doesn't have to take the fun out of the trip it should in fact enhance the vacation.  By doing just a handful of simple things ahead of time you can easily make your family vacation or weekend getaway not only a relaxing and fun way to regroup as a family but also a great way to help encourage your child in their quest for knowledge.
How to Incorporate Education Into Travel
(1)    TEACH YOUR CHILD HOW TO READ A MAP.  This is something I did not learn until I was an adult and I decided early on I would help my children learn how to read a map properly.  The influx of GPS systems has taken this need away from us somewhat but there are still occasions when a good old fashioned paper map comes in handy.  Road trips are especially good for teaching this skill, but even air travel can be used for this when you reach your destination and need to navigate city streets to find your hotel.
(2)    LEARN THE CAPITALS OF STATES YOU PASS THROUGH.  If traveling by car across multiple states this can be a fun educational tool to pass the time in the car.  Gather a few simple facts like state capitals, state flower and population about each state and create a silly song to sing along the way.  Purchase an Almanac to learn more about individual states and even the possible weather and cycles of the moon while traveling.
(3)    VISIT INTERACTIVE MUSUEMS.  Many larger cities and tourist destinations have some type of children's museum or science museum.  These are typically very reasonably priced (entry on average under $10 per person) and allow for free play time and the ability to incorporate education into travel.  Science museums often have displays with activities kids can do to create electricity; make sounds waves with sand, etc.  Not only are they learning something useful, they are also getting out some of that excess energy pent up from being in a car so long.
(4)    PLAY THE LICENSE PLATE GAME.  For younger kids learning letter and number recognition this is a great way to help them.  Play the license plate game with a variation of "what letters do you recognize on the plates passing by".  This helps with upper case recognition and can also help with spelling and word recognition.
(5)   MEASURE MILES PER GALLON FOR MATH SKILLS.  For the slightly older child this can be great for division.  Every time you stop to fill up the gas tank allow your child to figure as quickly as they can (in their head or on paper) how many miles per gallon of gas you got on the road.  You can also use the total trip mileage as a great way to help with larger addition and subtraction problems. 
While not every parent wants to incorporate education into travel, these are some fun things you can do to help your kids sharpen their skills and perhaps teach them a little something new along the way.   Everywhere is a classroom, you simply have to choose wisely how to use it. 
Find more money saving travel tips here.
Did you enjoy this post? Find more money saving tips here.