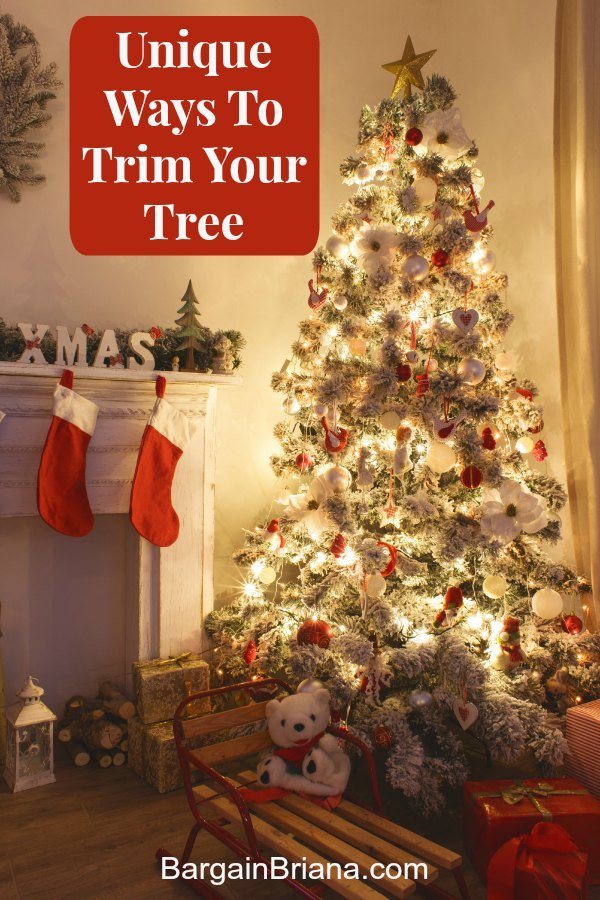 This year you may want to try a new way of decorating and trimming your Christmas tree. You may want to add some pizzazz or sparkle or just a unique look for your tree when you decorate. If so, check out these ideas or use them for inspiration to create your own new, unique style for your Christmas tree.
Kitchen Tree
Decorate your tree so it celebrates the hub of the home — the kitchen! Use assorted items from your kitchen to create a fun and whimsical tree full of kitchen delights. Add hangers to items like potholders and cookie cutters. Tie yarn around spoons and forks for hanging on the tree. Use lengths of yarn to tie dish towels together to create a unique garland for your tree. You can also tie together cookie cutters for garlands or pop a large pot of popcorn then string it up for hanging on the tree. If you have a favorite recipe for Christmas goodies, make copies of the recipe then hang the copies on the tree. Invite guests to grab a recipe when they visit.
Toy Tree
If you have children in your home or children who visit your home, this can be a fun tree trimming idea that will be popular. Make a trip to a local dollar star and invest in several small toys. Trim your tree with these toys (they can be used as small gifts for young visitors) and add a number of other toys from your own collection. You may also visit a local thrift store to buy a number of toys to trim your tree with.
Pet Tree
If you're an animal lover, use pet accessories to trim your tree. Connect leashes together to create a garland to wrap around your tree then hang collars, toys, and treats on the tree. Look for other pet-themed ornaments and decorations or create your own using pictures of dogs and cats, small toys, and other items.
Nature Tree
Bring the outdoors in by creating a nature tree. Use natural items you find outside to trim your tree. Look for pine cones, grape vines, dried flowers, and other natural items. You can also collect tree nuts or large seeds (acorns, buckeyes, pecans) then bake in an oven (about 250 degrees for about an hour) to kill any critters inside, then drills holes and string for a unique, natural garland.
Candy Tree
Create a unique tree that will offer a treat for family members or guests. Trim your tree in holiday candies! Hang assorted candy canes on the branches. Use yarn to tie hangers onto other pieces of wrapped candy. Make a small sign to hang on the tree, inviting visitors to help themselves to a sweet treat!
Make your tree unique this year by adding some fun and frivolity. Use one of these ideas to turn your tree into a whimsical and fun piece of art in your home.