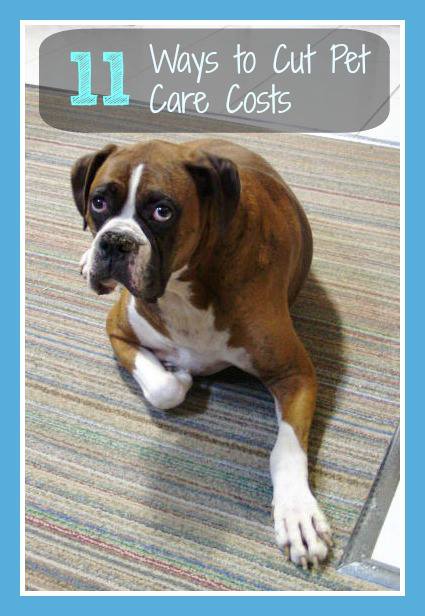 Pets are the light of our life, but they can get expensive. Rather than give up our pets, we should be thinking of ways to save money on all the things they need. Just like other members of our family, we need to be conscious of where the money is going and where it could be spent wiser.
11 Ways to Cut Pet Care Costs
In this post, I will discuss 10 ways you can save money on pets. While most of them are for cat or dog owners, there are a few thrown in for small pets as well.
1.  Try making your own kitty litter. With just newspaper and water, you can make your own pellets for kitty. It can be time consuming, but the cost of kitty litter is a huge expense, so if you get the paper on a regular basis, this is an excellent way to not only recycle, but save a lot.
2. Consider rescuing an animal from a shelter before buying one. Rescue pets often make great pets for families because they have been checked out by a vet and most of them are spayed/neutered. Many come fully vaccinated and some even come with chips implanted in case they get lost. The fees are low cost as well. Usually less than $100 and senior animals (those that re older in age) are often cheaper or free.
3. While it may seem like a good way to save money in the short term, buying cheap off brand food is not the best choice. Feeding your pet this over their lifetime can increase disease in old age and even shorten their life. Think about it as if your animal was your child..would you give them a strict diet of junk food? Higher incidence of disease can make vet bills soar.
4. If you think you cannot afford the more expensive stuff, make sure you are looking for coupons. Many manufacturers of higher end food offer good discounts and you can even buy animal food online and get free shipping along with discounts.
5. Consider grooming your animal yourself. You can buy clippers specially designed for cat or dog fur in the pet care aisle of most stores that carry pet products. If you are nervous about doing it, you may try watching some you tube videos on how to do it. If you are still unsure, you may want to see if a groomer can offer you a discount if you are a regular customer.
6. Don't go crazy over pet accessories like clothes, blingy collars etc. Pets don't care. This can easily eat up a ton of money if you get carried away.
7. Make your own pet treats. Dogs will love these peanut butter treats and cats will go nuts for tuna treats. If you are not that crafty, always look for coupons for treats.
8. Shop around for pet care costs such as flea and tick treatments and prevention. There are many online places that you can have them shipped directly to you without the cost from the vet passed onto you.
9. Did you know you can give your puppy his first shots and not have to take them to the vet for less than $20.00? Many farm and ranch supply stores sell the vaccines and needles and giving the shot is very simple and relatively painless process. Just ask the place where you buy it to tell you how to do it and where to do it so you feel confident in your ability.
10. Consider getting pet insurance. While it may seem gimmicky, pet care health costs can be enormously expensive and while most insurance carriers for pets do not cover routine things like checkups or shots, they will cover the more expensive visits that require surgeries or procedures. Again, shopping around for these can be your best bet.
11. For small animals, you can often find used cages and accessories on Craigslist. Just make sure they are in good working order, free from cracks and broken pieces and clean them up well with a good scrubbing.
How do you save on pet care costs?