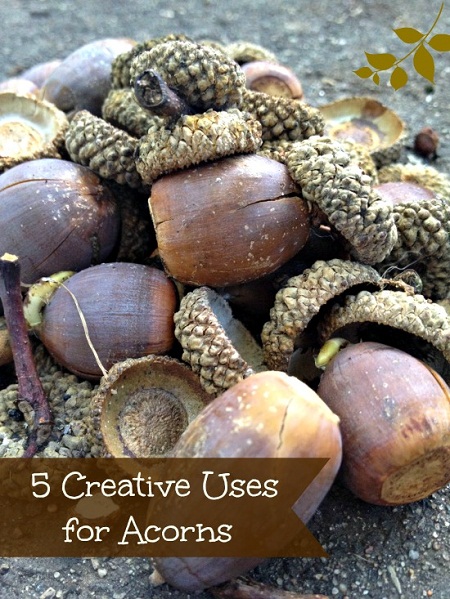 If you have oak trees in your yard, chances are you have tons upon tons of acorns in it now too. During the fall months, acorns fall by the dozens into yards and on sidewalks and driveways, leaving you to wonder what to do with them. Sure you could just sweep them up and toss them out, but believe it or not there are a few creative ways to use your acorns instead. Take a look below at 5 creative uses for acorns that you can try this fall season. You may never look at them the same way again.
5 Creative Uses for Acorns
1. Make a rustic wreath.
Get a simple foam wreath form and gather dozens of acorns. You can leave the caps on or off if you wish, it is up to you. Then, start hot gluing the acorns onto the wreath form in uniform lines until all of the spaces are filled in. Then, you can either leave it rustic or add some glam by giving it a coat of spray paint.
2. Use as a vase filler.
Buy clear vases in assorted sizes and fill them with acorns. Leave a little room at the top for a dollar store battery operated votive. These arrangements will make great centerpieces as well. If you feel really crafty, prior to filling the vases you can toss the acorns in glitter or even give them a coat of spray paint.
3. Feed your feathered friends.
Whole acorns may be hard for birds and other yard critters to crack open, so do the hard work for them. Place a bunch of acorns in a bag and smash them up with a hammer. Roll the mixture in some peanut butter and then spread it onto a cardboard paper towel roll. Hang the roll outside and watch the wildlife flock. They will love you for it.
4. Donate them!
Many zoos or wildlife organizations would be happy to get your acorns. They can use them in food mixtures and sensory activities they provide for the animals. If you have a local animal shelter or zoo in your community, call them up and see if they can use them. Most likely they will be thrilled to take them off your hands.
5. Start seedlings.
It is easy to start seedlings using acorns. Just soak them in water for a bit to soften them up and then plant them in a small cup as you would any other seed. Tend to it with light and water until it sprouts. Seedlings make great gifts especially when celebrating a milestone such as a birthday, wedding, or baptism!
Who knew there were so many practical uses for acorns? This fall season, don't just toss all of yours away. Instead, gather a bucket or two of them up and give some of these simple uses a try. You might be surprised at what you can come up with and how valuable these little treats really are.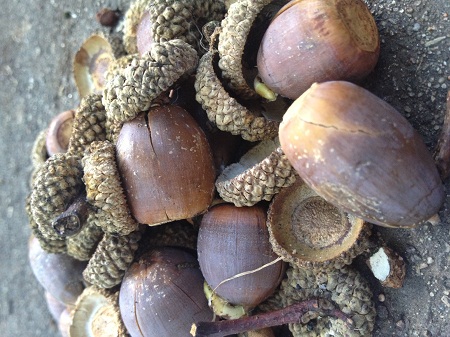 Did you enjoy this post? Find more money saving tips here.