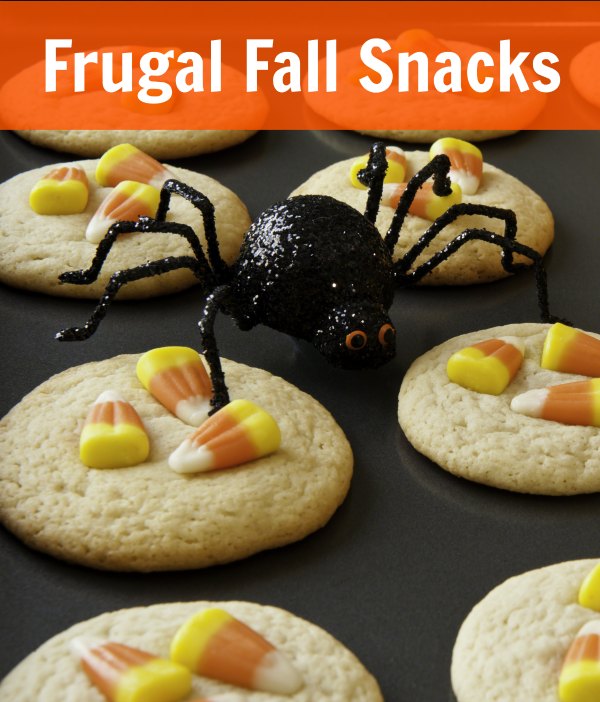 Fall is here! So let's head to the kitchen to whip up some tasty fun. Take a look below at 5 festive and frugal fall snack ideas you can try. These snack ideas are great for kids, and are sure to leave tummies happy too. Take a look at how to get started!
5 Festive and Frugal Fall Snack Ideas
1. Cornucopia Cones
Fill an ice cream cone with fall colored candies, marshmallows, pretzels and nuts. Serve them on their sides so they look like a cornucopia. Kids will love nibbling on the snack mix from their own horn of plenty!
2. Candy Corns
Take a banana and cut it in half. Poke candy corns into the fruit until they are secure. The end result is a sweet and edible piece of "corn" complete with colorful kernels.
3. Witch Hats
Flip over a chocolate cookie such as a Fudge Striped Cookie. Add a dab of frosting and place an unwrapped Hershey Kiss on top of it. The end result is a spooky and edible witch hat!
4. Spooky Spiders
Press 8 pretzel sticks into the sides of a jumbo marshmallow. Use a dab of frosting as glue, and glue on two candies for eyes. You now have a cute and edible spider that kids will get a kick out of.
5. Mandarin Orange Pumpkins.
Take a mandarin orange and glue small felt shapes to the front to make a jack-o-lantern. You can also stick a length of green pipe cleaner in it for a stem. These make great party snacks that are not only fun but healthy.
And don't forget, pumpkin spice sprinkled in drinks and on popcorn is a quick an easy treat.  You can also try dipping apples and crackers into melted caramel. So yummy!
Give these kid friendly and approved fall snacks a try. They are great for doing as a family, with a classroom of kids, or to give as party favors. Kids will love how easy they are, and you will love how inexpensive they are.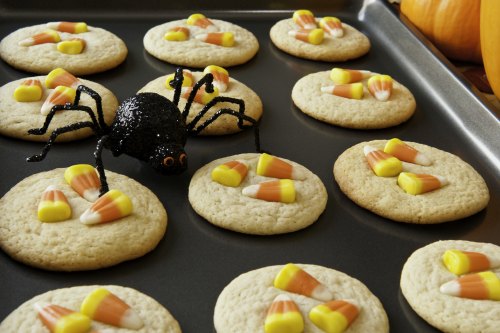 Did you enjoy this post? Find more money saving tips here.