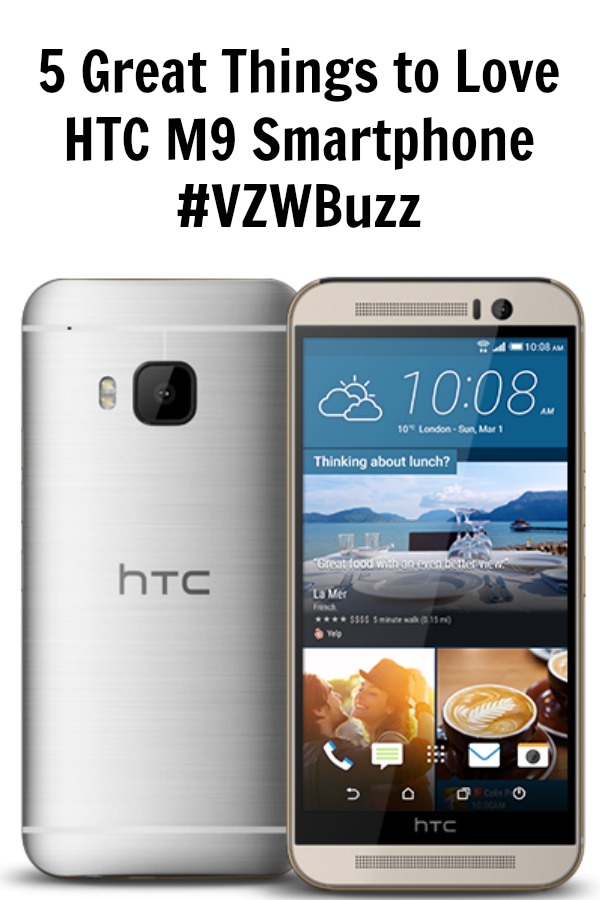 There are so many things to love about the new HTC One M9 smartphone but we have narrowed it down to our favorite five. Beyond the stylish and beautiful look of this phone there are many other benefits including Uh-oh protection, awesome sound quality, fun camera and video options, theme customization and more. This phone has everything you are looking for.
5 Great Things to Love About the HTC M9 Smartphone
1. Uh-oh protection.
Uh-oh. We either have done it ourselves or know someone who has cracked their screen or dropped it in water within days, weeks, or months of getting a new phone. HTC has an awesome program, HTC Uh-oh Protection, that will allow you one free phone replacement within the first year for water damage or a cracked screen. If you don't use it, you can get $100 credit towards your next HTC One device.
2.
HTC

Eye™

Love selfies? The HTC One M9 allows you to take selfies with voice command or turn on your camera instantly with motion launch. This makes taking selfies so much easier. Plus, you can combine your photos and videos with your friends for multiple points of view with the Zoe app. Videos with record in 4K Ultra HD.
3.
HTC

BoomSound™

The HTC One M9 has HTC BoomSound™ with built in amp and Dolby Audio™ . This gives it a cinematic experience. Also, has front facing speakers.
speakers or connect to multiple speakers and play different music in different rooms.
4. Theme Store
Choose from a wide range of designer themes to suit your personality. Preview the theme you like before downloading the theme. It will give you a system wide personalization. Kind of fun!
5. Glove Mode
Right now when it is hot outside, it is hard to think about how cold it gets in the winter. Sometimes when you are outside in the cold, you still want to check your phone but you don't want your fingers to freeze in the process. You can use the HTC One M9 while wearing gloves when you enable Glove Mode in the display. This way you can still control your phone without special gloves or freezing your fingers off.
Disclosure:  As member of a pretty cool team of influencers, I received the Samsung Galaxy Note 3 with line of service from Verizon. No additional compensation was provided nor did I promise positive feedback.  All opinions are my own. Learn more on how I disclose on my Disclosure Policy page.