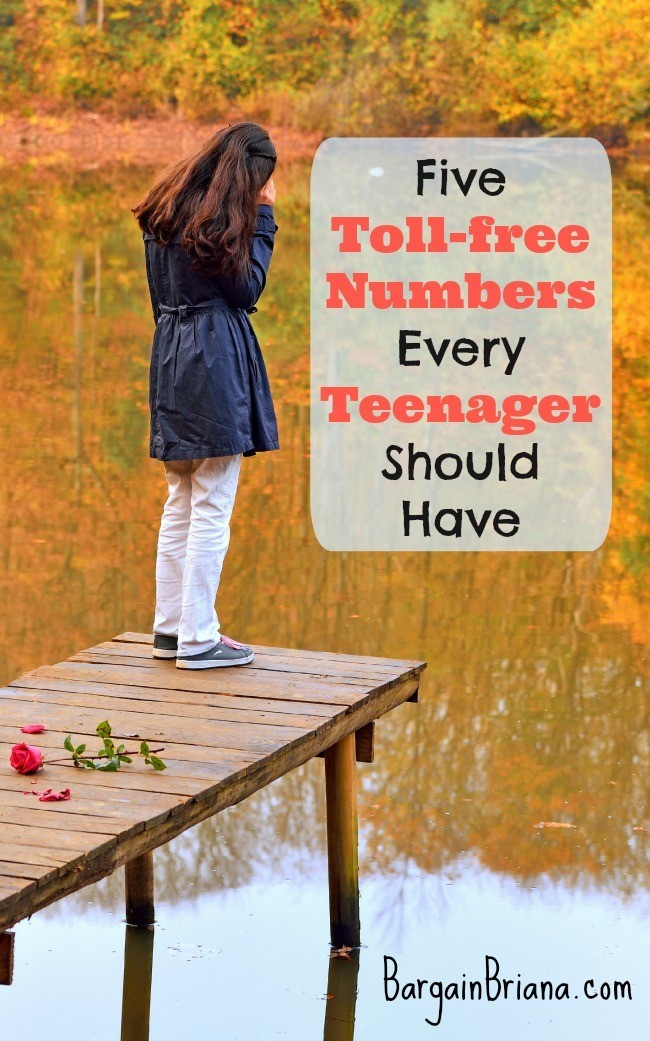 Most parents don't really think about suicide, domestic violence, depression and other issues. They live a normal life and assume that their children are untouched by such issues. Just because you don't have those issues under your roof, that doesn't mean that your teen is unaffected by them. Most kids that are depressed or unhappy never directly speak to their parents about it. Sometimes it is the teen's friends that are suffering from these issues. Whatever the case, they should all know how to get help.
While we as parents certainly need to be there for them, they also need to have an outside source for help. They also could then share these resources with their troubled friends.
5 Toll-Free Numbers Every Teenager Should Have
Here are five resources and toll-free numbers that every teenager should have:
1-800-799-SAFE – Domestic Violence Helpline
Again, whether you have domestic violence issues in your home or not is irrelevant. If your child is visiting a friend whose father secretly abuses that family, they need the help right? This is a good number for every teen to have. They can give them options and power when they feel the least hopeful.
1-800- 621-4000 – National Runaway Switchboard
Kids run away. Sometimes it is justified and sometimes it is because they are troubled. Whatever the case, they need someone to turn to. This is a wonderful resource that can put them in touch (secretly or otherwise) with their parents and possibly get them help they desperately need.
1-800-SUICIDE – National Hopeline Network
Suicide and depression are rampant in our world today and teens seem especially susceptible to the issues. This network can get them help and talk them through crisis. When a kid has nowhere to turn, that is when things escalate. Give them another option when things seem bleak. It could save their lives.
1-866-488-7386 – The Trevor Helpline
This is a number to help those kids that are gay or troubled. They are a suicide prevention hotline that specializes in youth that are having issues with their sexuality or identity.
1-800-422-4453 – Child Abuse Hotline
Again, this is not about you or what happens under your roof necessarily. Every kid needs to know this number just in case. In many cases, the child abuse is happening outside the home. It could be an aunt or uncle, friend of the family or even a stranger.
These numbers are all about giving teens options. When we empower our youth with tools like this, we give them confidence and teach them to fight for themselves. Make out a card to fit in their wallet or purse and you never know what returns you might get on that five minute task.
It could save their life.
Did you enjoy this post? Find more money saving tips here.