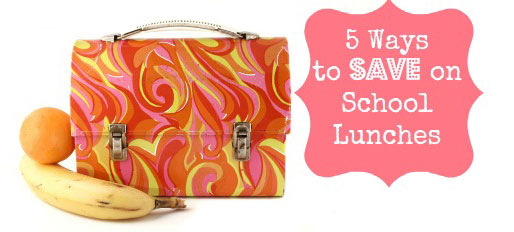 One expense that parents of school age kids face is school lunches. While it may seem that hot lunch purchased from the school is cheaper, if you pack from home, it can save you a bundle.
Here are 5 ways to save on school lunches:
1. Don't use a brown bag. These bags are not only a waste on the environment, but unnecessary. You can save a bundle using re-useable lunch bags/boxes and even re-useable containers. My favorite lunchboxes are the Easy Lunchbox containers and bags!
2. Fill the kid's boxes with left-overs from dinner. You will be using what you have and most kids enjoy leftovers of mom's spaghetti or cold pizza.
3. Never buy pre-packaged lunchbox fillers. Get a large bag of baby carrots, potato chips, cookies, etc and bag your own servings in reusable containers. The mark-up on the pre-packaged ones is really outrageous compared to packing your own. Don't have a lot of time in the morning? Pack them the night before.
4. Be extra "cheap". When you are given sauces, dips, and condiments at gas stations and fast food places, save them and pack them in school lunches. Save plastic containers with lids to sort the packet in to and take out as many as you need at one time. Sort into: taco sauces, mayo, ranch/dressings, ketchup/mustard and dipping sauces. If you save crackers from soup orders to go, you even have some for soup you send with your child. Just ask for extra of whatever you are getting at the window. "Extra Ketchup, please!" Most places will give it out freely.
5. Make some of your own sides and desserts. On the weekends, make granola bars, cookies, pudding and so on. Then, just portion it out as the week goes on.
Be sure to check out our Freezer to Lunchbox Back to School lunch recipe series!
How do you save on school lunches?