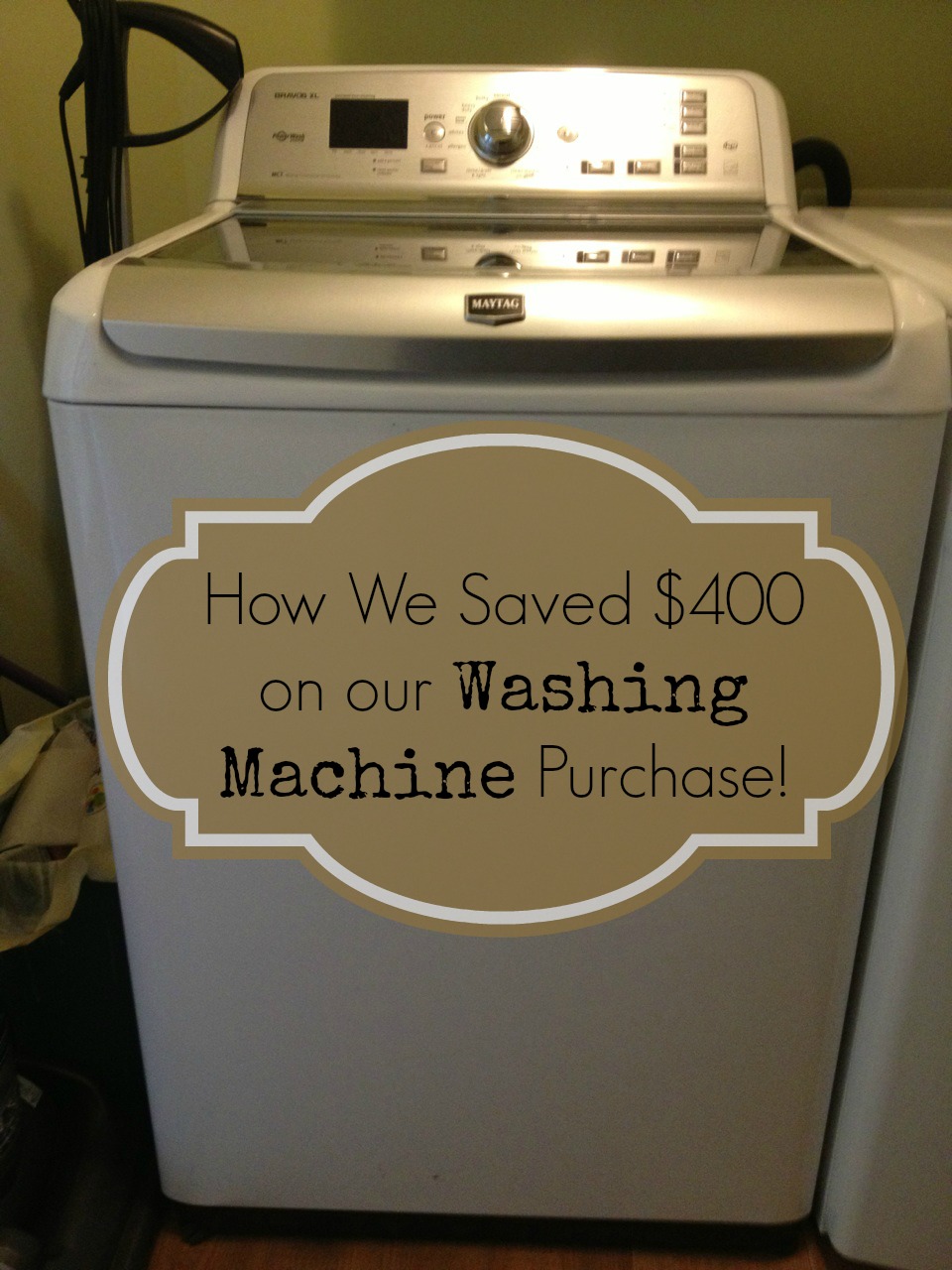 Our dryer hasn't been working for the past year or so. After having a repairman out a couple of times who said nothing was wrong with it, cleaning out the duct work very thoroughly, we were all frustrated. It was taking over 3 hours to dry anything. The repairman told us it was most likely the distance our vent was from the outside of the house as the issue, though it wasn't an issue when we first moved in or when we first purchased that dryer. Because I'm tight sometimes with my money, I just suffered on with the dryer that took forever to dry clothing.
Then my husband, who rarely does the laundry, was trying to wash a load of jeans for work. Of course, they weren't dry by the morning. He was done. Told me to get one a new one. I decided to use some Amazon gift certificates I had been collecting for something fun on something completely boring. Within a week or so, we had a brand new works wonderfully dryer for our clothing. YESSSSSSS!!!!
It was going along great. Until the washing machine started giving us a OE error more and more often. It had also been doing that for about a year or so but we had been dealing with it. We had the same repairman out to look at it but it wasn't a consistent issue and at the time only seemed to be doing it when my oldest daughter did laundry. So of course, I assumed she was doing something wrong with the laundry. False. It was just slowly dying.
According to a friend that was at a recent blogging conference with me, washer and dryer sets mate for life. One dies and the other one can't survive without its soul-mate.
For a couple of weeks, I've suffered with this OE error that would happen after the washing cycle. Basically, it wasn't draining the water from the drum. I had taken it apart several times over the course of the last year to clean out the filter and all of that gunk and then it would usually start to work properly again. Then it just stopped working at all. The OE error was constant. I tried to do the same load 4-5 times. Fed up at this point. I have this dryer that is drying with record speed and now the washing machine was holding me up.
I really didn't want to fork over more for a washing machine but my time is also valuable. With six people in our household, our washer and dryer are constantly going so the previous set had a good run. 3-4 loads of laundry almost daily for the past 8 years or so. I think it was time.
We needed one quick as the weekend was coming up, we always have laundry to do, etc. I decided this time around I wanted a top loader because I was sick of cleaning the stinkiness out of the front loader. Plus, if you want to soak items, you can't do that with a front loader. At least you couldn't with the one we owned. I began a quick search online. My criteria:
Large capacity – with a big family we have lots of laundry. The bigger the capacity, the more stuff I can wash at one time. 

Top loader.
In-stock so we can get installed the same day.
American Made or American Brand. We've bought other brands in the past and it seems to be more difficult to find qualified repair people. Plus, with the American economy as it is, we love to support American Made products whenever it is possible.
Good reviews online.
Budget: $800 or less.
I'm not too picky, really.
Less than an hour, I had my pick.
The Maytag Bravos XL Top Loading washing machine. It was on sale for $799 – $200 off the $999 sticker price, 4.6 cubic feet and in stock at our local Lowes store and had 4.6/5 stars from customer reviews. I also look to see how many customer reviews and there was over 1,000 just on the Lowes website. Plus: American pride – designed, engineered, and assembled in the USA – specially Ohio – our neighbor to the East, which I also confirmed with this article from Consumer Reports.
Winner! I also compared the price to other local appliance retailers and looked for any available coupons.
Appliances are never cheap. It is something that is a must have in our household. $800 may seem like quite a bit but if lasts for 8 years, that is just $100/year. Cheaper than my time to go elsewhere to do laundry. Anyway, this is the one I had my eyes on.
Let me tell ya how my husband saved an additional $200 to bring our price down to just $599!
My husband went to go buy it from Lowes, confirmed the price matched the online price. The washing machine didn't have a sign indicating the price that I saw online. After scanning it, the sales person confirmed the online price, which we would have not known had we not checked online. Cha-Ching. He has a eagle eye and noticed some boxed items in the scratch and dent section of Lowes. What are the odds that they would have a scratch and dent never used product in the exact same model that I had wanted?
Apparently, pretty high. Exact same model for $200 less than the sale price! After inspection, it had just two minor scratches on it. I'm not picky. I said go for it. Our laundry room is a highly trafficked area in our house and it would probably have several more scratches on it by the end of the week. Scratches don't determine performance on a big ticket item like this. And that's how we saved $400 on our big ticket purchase!
From far away you can kind of see the scratches on the front. My washing machine "ain't" entering any beauty contests so I'm cool with a couple scratches.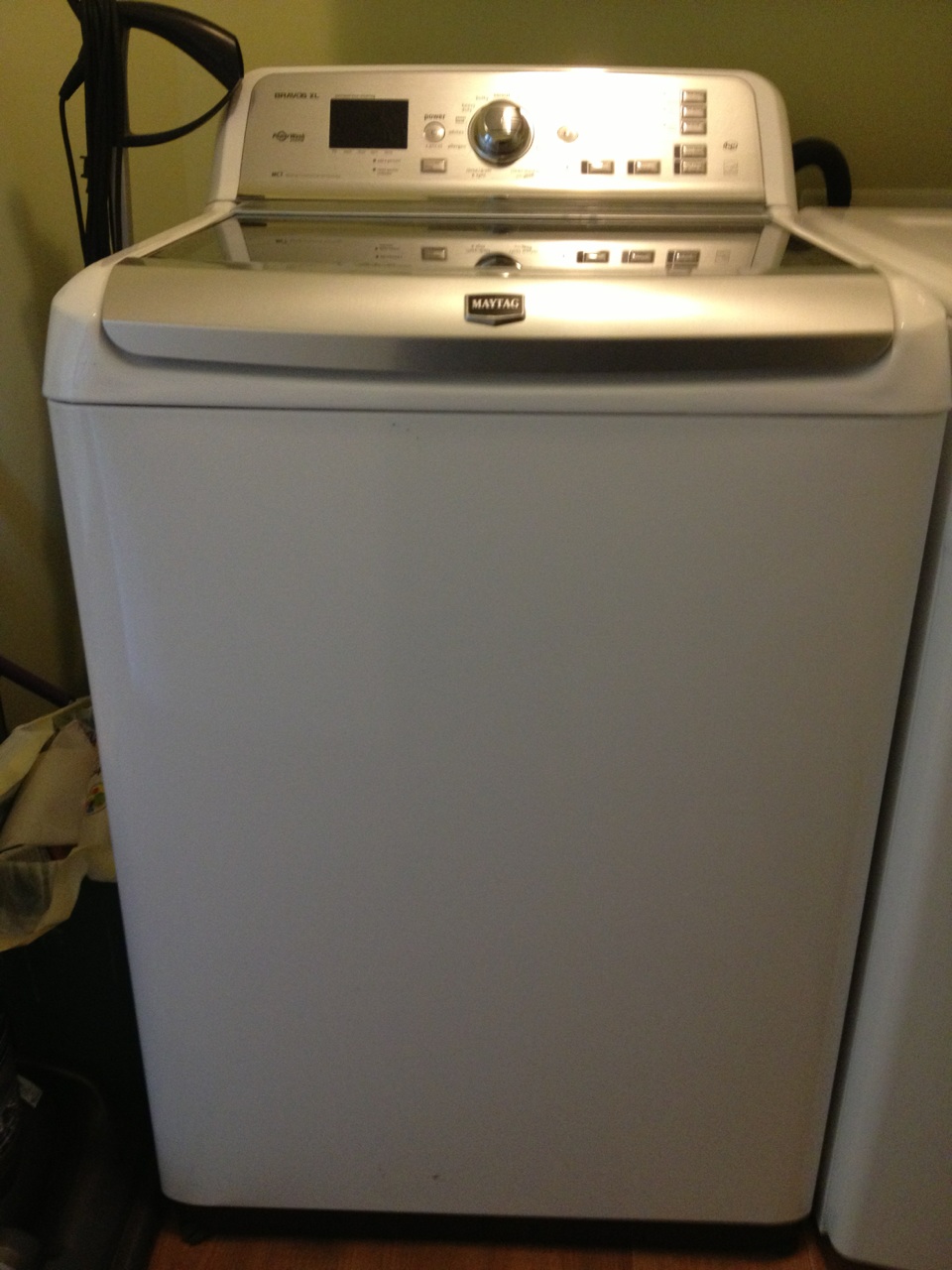 With the close up photos, you can kind of see. It is so minor, though, it was totally worth saving $200!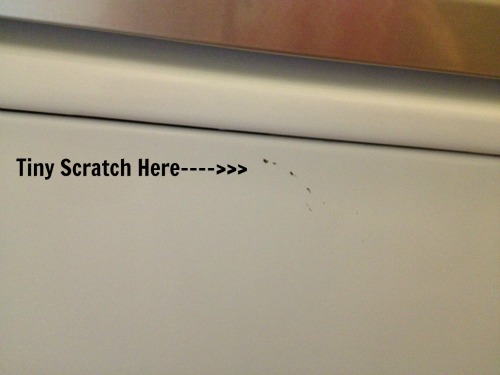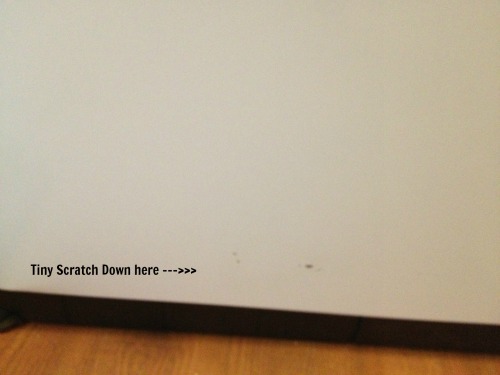 How do you save on big ticket purchases? Find more ways to save on appliances in this post.