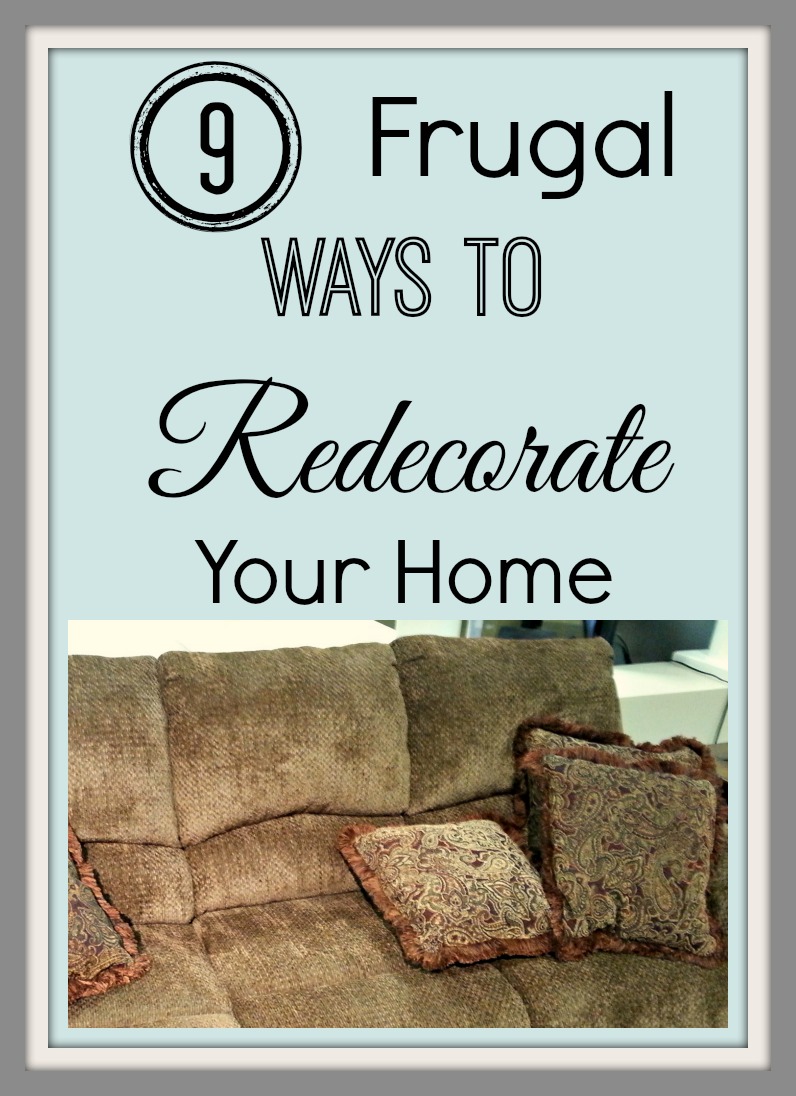 Whether you have just purchased a home in need of some updating or simply have the itch to do some redecorating in your own home, those kind of projects can cost a considerable amount of money.  Here are 9 Frugal Ways To Redecorate Your Home that will leave you feeling fresh and renewed without draining your savings.
9 Frugal Ways to Redecorate Your Home
BUY OR MAKE SLIPCOVERS FOR FURNITURE.  One of the biggest expenses in redecorating comes with buying new furniture or appliances.  While appliances can't be covered for a change, your furniture can.  Measure and buy fabric to make simple slip covers or check out ready made ones that will work for your furniture.
UPDATE WITH A FRESH COAT OF PAINT.  If your walls are a drab white or eggshell brighten them up with a new trendy color or a bright color you love.  Afraid to go all out with color? Paint one wall in the room a bright statement color to create a focal point and break up the room.
CREATE CUSTOM CANVAS PRINT ARTWORK.  With free and discounted canvas prints available from tons of great vendors online, you can easily take your favorite beach picture from last summer, childrens artwork or family portraits and create custom art work to decorate your home with in a fresh way.
SHOP THRIFT SHOPS, YARD SALES & FLEA MARKETS.  Tons of great pieces of furniture and accessories are sold at bargain bin prices every day at your local thrift shops, yard sales and flea markets.  Spend a weekend afternoon browsing for those gems you can refinish, paint or touch up to add just the right bit of flare to your home you are looking for.
INVEST IN A SKYLIGHT.  While this is an expense, it can totally make over a room that is otherwise dark and dreary.  A skylight or larger updated windows can be a one time larger expense that makes your entire home feel and look larger.
USE DUAL PURPOSE STORAGE.  Book cases, ottomans and trunks can all be great finds at flea markets that are not only new pieces for your home, but dual purpose.  Grab a great trunk and clean it up to be used in the corner of your entryway as a place for kids to toss their book bags on the way in each day.  Use a book case to display collectibles, art work or family pictures.
PURGE UNNECESSARY ITEMS.  Sometimes getting rid of clutter and items that aren't used regularly can give your home a fresh updated look.  Sort, donate, throw away and sell items that you don't use or no longer need.
BRING IN THE PLANTS & FLOWERS.  A nice fern, flowering vine or aloe plant can often brighten up a room with the freshness of life.  House plants and fresh cut flowers can be an inexpensive way to brighten a dreary room and are easy to manage.
MAKE YOUR OWN ART.  Find a quote or saying that you love?  Use a fun application like PicMonkey to edit into fun colorful fonts, print on a piece of card stock and frame in an inexpensive frame matching your colors for your own custom art.
Check out magazines, websites and other homes for styles you prefer and apply these 9 frugal ways to redecorate your home to create a style you love at a cost you can afford.  Often moving things from one room to another and working with what you have on hand can give you the lift you need while still feeling like you have renovated your space.
Did you enjoy this post? Find more money saving tips here.